Connector : Mechanical connector 1506
Mechanical connector 1506 ST ML, Cikkszám: 435-01500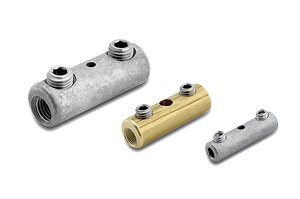 This product is not available anymore.
Tulajdonságok
For connecting different conductor cross-sections
Suitable for aluminium and copper conductors
With blind hole for precise conductor insertion
Tin-plated connector body and hexagon socket screws
Tanúsítványok
Felhasználás
Galvanised mechanical connector provided with a blind hole and suitable for stranded and solid aluminium and copper conductors in all kind of cable accessories. They also comply with DIN 4740 requirements for shrinking technology.
Colour
Zinc Plated Metal (BV)
Pack Cont.
1

pc.

Package Quantity per
pcs.
PART DESCRIPTION
Mechanical connector 1506-ST-ML
Product Family
Mechanical connector, tin-plated, with blind hole for AI and CU conductors
Product Group
Connector
Short Description
Mechanical connector 1506 ST ML
Diameter (D)
7

mm

Nut Size (NS)
1.5

mm
ELV compliant Dir. Art. 4 (2)
YES
Hazardous good
No
Material
Steel (ST)
Specifications
Voltage Range ETIM
up to 15

kV
EAN / GTIN
4250596412749
Packaging 1 - Height (m)
0.025

m

Packaging 1 - Length (m)
0.007

m

Packaging 1 - Qty
1
Packaging 1 - Type
Pack
Packaging 1 - Volume (m³)
0

m³

Packaging 1 - Weight (kg)
0.006

kg

Packaging 1 - Width (m)
0.007

m

Packaging 3 - Height (m)
0.27

m

Packaging 3 - Length (m)
0.6

m

Packaging 3 - Qty
1000
Packaging 3 - Type
Carton
Packaging 3 - Volume (m³)
0.0648

m³

Packaging 3 - Weight (kg)
9.3

kg

Packaging 3 - Width (m)
0.4

m

Weight
0.006

kg
| | |
| --- | --- |
| ETIM 6.0 | EC001063 |
| ETIM 7.0 Key | EC001063 |