12 Port RapidNet CAT5E UTP RN12U5E-CACAXX-18.0M
Cassette to Cassette, Article number: 859-06698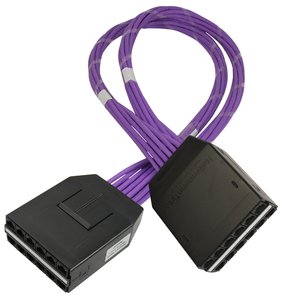 Features
12 Port high density RapidNet Cassette, Clear labelling presentation with magnifying lens, Flexibilityof Standard RapidNet option; cassette to cassette, cassette to RJ45 plugs, cassette to split cassette and cassette to pod, Faster investment to revenue stream, Reduce installation time by up to 85%, Available in category 6 and category 5E, Pre-tested with test results supplied, no on-site terminations required, ZeroU ready solution
Application
RapidNet from HellermanTyton is the unique, pre-terminated and pre-tested solution that offers uncompromised performance and quality. The 12 Port Cassette to Cassette RapidNet option is specifically designed for inter-cabinet links which are common place in today's data-centres.
Application 2
The RapidNet CAT5E solutions are designed to support any voice and data cabling system that is capable of running over their respective systems and are backwards compatible with existing CAT5E, CAT5 and voice network infrastructure.
Colour
Violet (VT)
Connector Type
RJ45 UTP
Description
RapidNet can reduce installation time by up to 85% and is designed to meet the exacting standards of mission critical installations where network down time and poor systems performance is not an option. The 6 core bundled cable have been specially designed to eliminate potential alien cross talk issues and uses a clear tape to reduce the bundle, ensuring a high quality, well managed installation.The 12 Port RapidNet Cassette to Bare End solution presents 12 RJ45 ports in one cassette with 4 cassettes fitting into the new 12 port RapidNet™ patch panel. A fully loaded panel presents 48 ports in 1U of space
Features and Benefits
Available in CAT6 and CAT5E UTP
Pack Cont.
18.0

m

PART DESCRIPTION
RN12U5E-CACAXX-18.0M
Performance Category
Category 5E (Class D)
Product Family
Cassette to Cassette
Product Group
12 Port RapidNet CAT5E UTP
Technical Description
Designed to present twelve pre-terminated Category 5E UTP un-shuttered outlets built into a protective case. Can be used in cabinets, desktops and consolidation boxes using the mounting sleeve. The Black PC/ABS plastic Cassette is designed to clip into the mounting sleeve with the whole operation taking no more than seconds to complete. The quick release latches allow the cassette to be removed and replaced in the mounting sleeve allowing the assembly to be relocated within a data centre for example or used as a temporary installation.
Depth (D)
133

mm

Height (H)
41

mm

Length (L)
18.0

m

Width (W)
103

mm
| | |
| --- | --- |
| Dimensions W x H x D | 103 mm x 41 mm x 133 mm |
| EAN / GTIN | 5022660994678 |