Simple installation and a secure hold:
with corrugated tubing clips from HellermannTyton
Tailored to the requirements of the automotive industry
A wide variety of corrugated or convoluted tubes are used in the automotive sector. The requirements for a suitable holder are as varied as the individual applications. While some scenarios require a simple fastener or a firm hold, other scenarios focus on safe and easy maintenance. HellermannTyton's corrugated tubing holders fulfil all these characteristics – and more.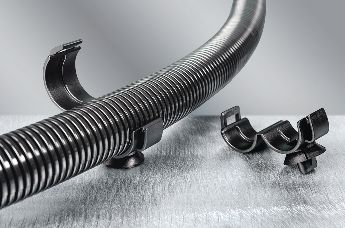 Product advantages at a glance:
rattle-free routing of corrugated tubing
high quality plastic solutions save space and weight
quick and easy installation saves time
partially self-closing and reopenable,
practical benefit for maintenance work
parallel routing possible

For questions or inquiries contact us now.
Whether for round or oval holes, for screw fitting or for tool-free mounting on weld studs, or threaded studs, with almost 100 product variants, we offer the right convoluted tube holder or bracket for every application – and in genuine HellermannTyton quality.

You need more? Discover our complete portfolio for the automotive sector now, here in our Automotive Portal.
If you want to, you can also enjoy exploring our world of automotive products through our Automotive Catalogue.
Fully able to supply and deliver –
any place, any time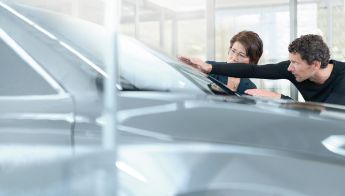 With product development in 13 countries and 17 production facilities, we are present around the globe and optimally networked. This enables us to ensure full supply at all times, even in changing markets.
In addition to our broad standard product portfolio, you benefit from our globally networked development teams. Thanks to their many years of experience, they know and understand your production processes very well and, if necessary, will work with you on site to develop individual, customer-specific solutions.

How can we help you? Send us your request now.
Three selected product highlights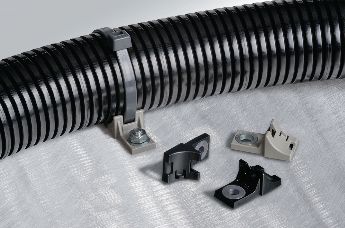 2-piece fixing ties, screwable
for heavy duty applications
a good alternative to metal clamps
withstands vibration and displacement forces
high tightening torque thanks to metal bushing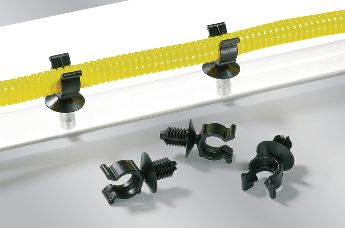 With fir tree foot part, heat- and impact-resistant
a single fir tree foot part can be used for a variety of panel thicknesses
also suitable for threaded holes
simply click in place to safely guide tubing
axial slipping is prevented by a profile in the corrugated tube holder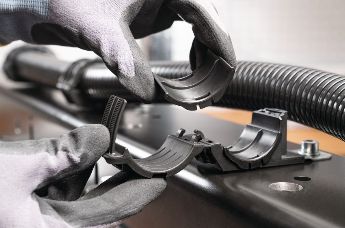 Ratchet P-Clamp, for increased fire protection
Complies with UL94 V0 requirement for low smoke emission
Low development of toxic gases and corrosive acids in the event of fire
Includes special rib for holding corrugated tubes
Prevents lateral slipping of the tubing
For more details and our complete portfolio please check our Automotive Portal.
You can find all fixing solutions for tubing in our Automotive Portal
For more information on the selected products above, as well as a complete overview of all our automotive corrugated tubing supports (see screenshot), please visit the HellermannTyton Automotive Portal - the perfect platform for designers, engineers and purchasers of automotive cable management products.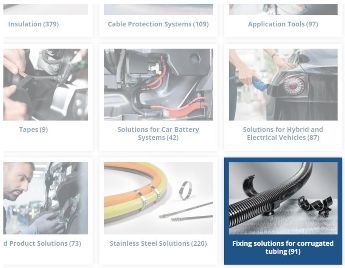 Further advantages:
gain an overview of thousands of standard products for a wide range of applications
the technical specifications of the products are always up to date
see at a glance whether OEM releases exist
find products by your customer part numbers
create a bill of material (BOM) directly from the portal
receive the contact information of your designated Key Account Manager
new parts are added regularly
Not registered yet? Then you should register today!
From automotive engineering dreams to reality
We work hand-in-hand with customers in the automotive industry to design and produce lightweight and multifunctional components that fasten and protect the electronics and wiring in vehicles. Our goal is to give automotive innovators the freedom to create the future of mobility – today.
Any questions? We're happy to help you.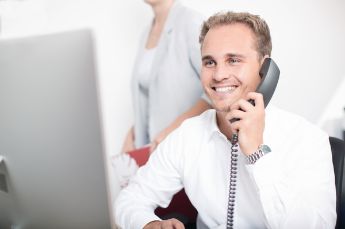 For inquiries and orders I am personally there for you:

Dennis Kahnau
Telephone: +49 4122 701 463
Email: Dennis.Kahnau@HellermannTyton.de

I look forward to your message.