Two-component gel : Gel-100
Two-component gel (cartridge) 250 ml / 238 g, Article number: 435-00805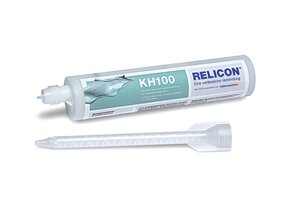 This product is not available anymore.
Features
Cartridge with mixing nozzle for use with standard cartridge applicator gun
Excellent flow properties
Soft elastic, vibration absorbing, removable
Outstanding insulating properties
Cures without developing heat
Saltwater resistant
Non-toxic, free of silicone and isocyanate
SVHC-free, contains no hazardous substances, the cured product can be disposed of with house hold waste
Halogen free
Certifications & Approvals
Application
RELICON KH 100 is a transparent, removable, saltwater resistant, flexible two-component gel based on hydrocarbon resins in trade standard cartridges. It is especially suitable for use with junction boxes in the low-voltage range, located in a humid area or in the ground. After curing, RELICON KH 100 is characterised by its excellent resistance to moisture and very good insulating properties as well as good chemical resistance.
Application: Electrical insulation and moisture protection for the low-voltage networks. Particularly suitable for filling of cable junction boxes.
RELICON KH 100 is suitable for following markets and industries
Application Tool
PTS4, ASS103, RCS0425
Colour
Transparent (CL), Orange (OG)
Density
0.95 g/cm³, 20 °C (DIN EN ISO 2811-2)
Pack Content
250

ml

Package Quantity per
pcs.
PART DESCRIPTION
Gel-100-PBD-CL/OG
Pot Life
40 min. 23 °C
Product Family
RELICON KH 100
Product Group
Two-component gel
Removable
Yes
Viscosity
2000 mPa*s, 5 °C (EN ISO 2555), 1500 mPa*s, 23 °C (EN ISO 2555)
| | |
| --- | --- |
| Dielectric Strength | >20 kV/mm |
| ELV compliant (Article 4 - 2) | YES |
| Halogenfree | Yes |
| Hazardous good | No |
| Material | Polybutadiene (PBD) |
| Material | PBD |
| Operating Temperature - °C | -40 °C to +90 °C |
| Shelf Life | 18 months |
| Specifications | |
| Vibrations absorbing | Yes |
EAN / GTIN
4250596413425
Packaging 1 - Height (m)
0.053

m

Packaging 1 - Length (m)
0.36

m

Packaging 1 - Qty
1
Packaging 1 - Type
pack
Packaging 1 - Volume (m³)
0.00277

m³

Packaging 1 - Weight (kg)
0.404

kg

Packaging 1 - Width (m)
0.145

m

Packaging 3 - Height (m)
0.225

m

Packaging 3 - Length (m)
0.37

m

Packaging 3 - Qty
12
Packaging 3 - Type
carton
Packaging 3 - Volume (m³)
0.0283

m³

Packaging 3 - Weight (kg)
5.348

kg

Packaging 3 - Width (m)
0.34

m

Packaging 4 - Height (m)
1.27

m

Packaging 4 - Length (m)
1.2

m

Packaging 4 - Qty
360
Packaging 4 - Type
pallet
Packaging 4 - Volume (m³)
1.219

m³

Packaging 4 - Weight (kg)
181.44

kg

Packaging 4 - Width (m)
0.8

m

Spray content
238

g

Storage Temperature
+4 °C to +40 °C
Weight
0.404

kg