Thermal transfer printer for industrial-grade printing
Thermal transfer printer for industrial-grade printing
TTE420S for small and light industrial grade thermal transfer printer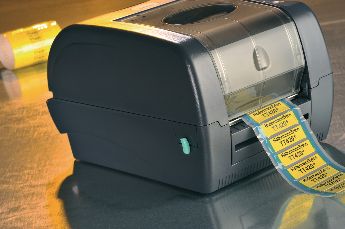 TTE420S is virtually limitless when it comes to suitable applications. Ideal for identifying goods in the logistics area and marking of cables in the electrical industry.
TT431 thermal transfer printer for low to medium volume applications
The TT431 is the ideal entry-level model: perfectly suited for small to medium print volumes for all standard applications such as printing bar codes, warning symbols, logos and text. The TT431 is very easy to set up like it's predecessor model shown in this short tutorial video below.
User-friendly, compact and multifunctional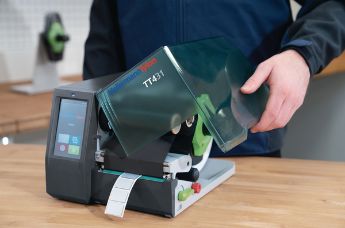 Possible materials that can be used for printing with the TT431:
Self-adhesive labels
Shrinkable tubing
Identification tags
One of the most important aspects of this printer is: user-friendliness. The TT431 can be easily and conveniently transported from workstation to workstation thanks to its low weight and compact design.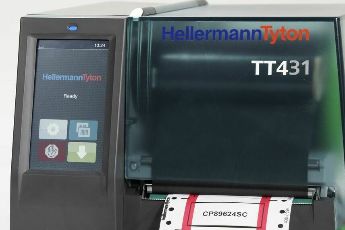 In addition, printing is easier than ever before: especially thanks to the 4.3-inch colour touch display, which allows uncomplicated and intuitive working with the printer – including clear status messages.

But it's not just printing that's user-friendly, thanks to TagPrint Pro 3.0 software, marking design is also extremely convenient.

Benefits at a glance:
Medium volume single sided printing
Intuitive handling via coloured 4.3 inch touch display
New, optimised firmware
Print on HellermannTyton cable markers and labels
Uses standard ribbons
Barcodes: standard and 2D
Print speed up to 150 mm/s (30mm/s recommended for Ladder Style products and tubing)
Multiple language selection
Windows drivers: 32/64 bit for Windows XP, Windows Vista, Windows 7, 8, 10
Useful add-on: The optional cutter and perforator make this printer ideal for a wide range of applications.
TT4030 thermal transfer printer for medium and heavy duty industrial applications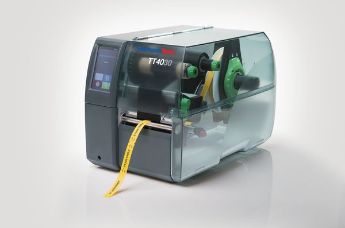 HellermannTyton thermal transfer printers use heat and specialised ribbons to create long lasting, durable labels and cable markers for a variety of industrial environments and applications.
That that will minimise downtime and costs associated with ribbon replenishment and production changeovers.
HellermannTyton premium printer TT4030 prints high definition graphics such as 2d barcodes, standard bar codes, numbers and text on adhesive labels and thermo plastics such as heat shrink and cable markers (Tiptags).
A colour LCD Touchscreen with modern user interface helps intuitive operation.
The 300 dpi print head fulfils all standard requirements for printing bar codes, warning signs, logos and written information.
Optional premium quality accessories such as a perforator and cutter are designed to work seamlessly with the printer and will suit the most demanding needs.
Creation of professional looking industrial identification is simplified by the use of HellermannTyton label creation software TagPrint Pro 3.0.
Whether in stand-alone mode, as a PC application or in a network - the robust TT4030 printers can meet every requirement.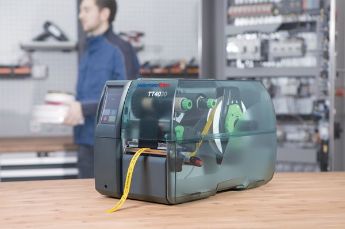 Benefits at a glance
High volume single sided printing
Print on HellermannTyton heatshrink tubing, cable markers and labels
Uses standard 300 m ribbons
Barcodes: standard and 2D
Print speed up to 300 mm/s (30 mm/s recommended for ladder style products and tubing)
Multiple language selection
Windows drivers: 32 / 64 bit for Windows XP, Windows Vista, Windows 7, 8, 10.
TrakMark DS thermal transfer printer for double-sided printing
The TrakMark DS is a high-performance printer for double-sided printing on HellermannTyton shrinkable tubing.
With two print heads mounted one on top of the other, the TrakMark DS prints onto both sides of the material at the same time.
High reliability and multiple peripherals enable applications and solutions tailored to specific customer requirements.
It is easy to use thanks to its display and clear status messages which can be shown in multiple languages.
300 dpi resolution ensures that barcodes, warning symbols, logos and text are as sharp as they can be.
Benefits at a glance
High volume double sided printing
Prints perferctly on HellermannTyton heatshrink ladder style products
Uses standard 300 m ribbons
Barcodes: standard and 2D
Print speed up to 125 mm/s (30 mm/s recommended for ladder style products and tubing)
Multiple language selection
Windows drivers: 32/64 bit for Windows XP, Windows Vista, Windows 7, 8, 10

Thermal transfer ribbons for adhesive labels, heatshrink and cable markers (Tiptags)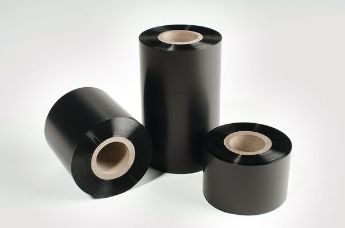 The thermal transfer print technology is based on heating up certain dots in the print head then transferring the ink very precisely from the ribbon on to the surface of the printed material.
All HellermannTyton thermal transfer ribbons consist of a special resin composition to maximise print performance.

In combination with HellermannTyton printers the ribbons ensure the highest print quality on all HellermannTyton thermal printable identification materials.
Benefits at a glance
Thermal transfer ribbons for highest quality and performance of printed labels, on heatshrink tubing and Tiptag identification tags
Ribbons are specifically designed to maximise print performance for the recommended material
Thermal transfer technology
Good print quality, high print speeds and the option of printing almost all backing materials permanently – these are the critical advantages of thermal transfer printing.
Its good readability, resistance and abrasion resistance allow thermal transfer printing to be put to use in applications where the print results from laser, inkjet or dot matrix printers are not satisfactory.
The advantages at a glance
High print quality with a resolution of 8-12 dots/mm (12 dots/mm corresponds to approx. 300 dpi)
Barcode printing in excellent quality, hence good optical readability
High print speeds of between 30mm/sec and 150mm/sec
Individual graphics capability
Problem free and rapid realisation of self-designed drafts
Quiet and service friendly printers
Prints are UV fast and permanent with high definition and contrast and good resistance to mechanical and chemical influences.
How do thermal transfer printer work?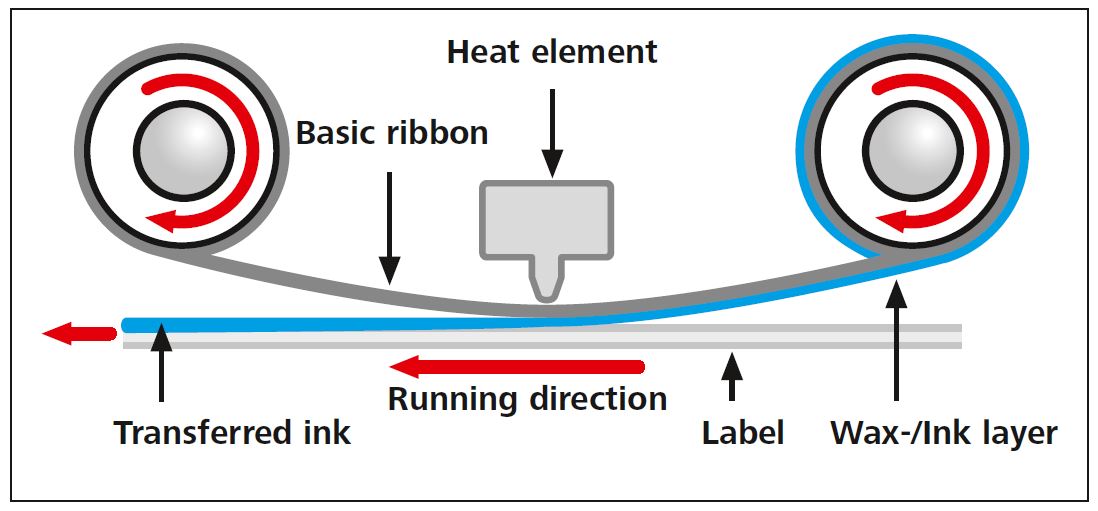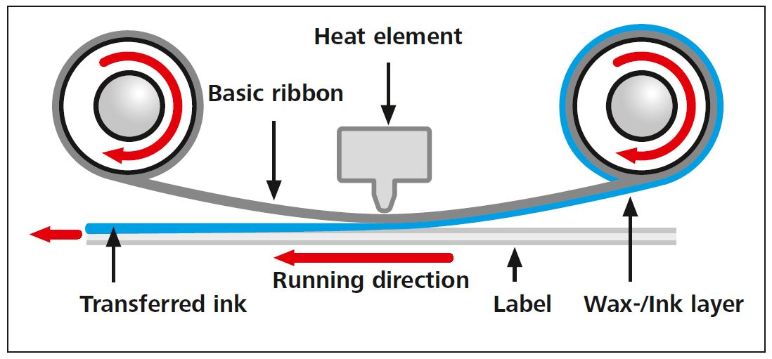 Heated dots strike a special colour ribbon, the thermal transfer film, which transfers liquified colour ink at exactly that point onto the backing material (labels, tubes, rating plates).
HellermannTyton printers use what is known as "thin film technology", in which the very brief liquid phase of the ink produces faster print speeds and better and more precise images than with the "thick film technology" formerly used.
Moreover, the linear orientation of the labels or of the heatshrink tubing makes it possible to print on demand. The printing is then carried out as required. This is especially useful in the production of rating plates in series production.
In thermal transfer printing, the print image is defined by the three components: printer, label material and thermal transfer film (colour ribbon).
What is the difference between direct thermal transfer and thermal transfer printers?
Direct thermal and thermal transfer uses a thermal printhead that applies heat to the surface being marked.
Thermal transfer printing uses a heated ribbon to produce durable, long-lasting images on a wide variety of materials.
No ribbon is used in direct thermal printing, which creates the image directly on the printed material.
Direct thermal media is more sensitive to light, heat and abrasion, which reduces the life of the printed material.
FAQ
Why is the thermal transfer ribbon tearing when I print?
Check the heat settings (darkness) in the software. If the temperature is too high it may tear the ribbon.
The print head is dirty and I am getting poor print?
Print a large black field on a high heat.This will help to remove all of the dirt.
My thermal transfer printer is missing some lines on labels?
The print head is damaged or dirty. Use spot clean pen or an alcohol solution. Refer to the printer manual.
Why is the ribbon tearing when I print (error message saying "No Ribbon")?
Check that the reel of material is not sitting on the base of the printer and causing drag. If the reel is too big it can rub against the ribbon. Also if the reel is fixed too tight it can contribute to this issue. For large reels please use an external reel holder.
I'm using TTRC+ and my ribbon rips off if I print?
There is too much heat or too much pressure on the print head.
When I use a new material I do not know how to create the design?
Refer to the user manual for a new label design.
I connected the printer via USB and now I have more than 1 printer in my list (copies). How can I prevent this?   
Before disconnecting the printer from PC please "Safely Remove Hardware and Eject Media". Best option is to use an Ethernet connection.
When I print the material just feeds and there is no print?
This is probably caused by selecting "continuous sensor" when you really need the gap sensor.
The print is not in the correct place on the TipTag?
This is probably caused by selecting the incorrect sensor.
I printed with one template and then created another and sent to print. The printer fed a few empty labels.  Why?  I did not open the print head?
This may be an issue with the template. Please check the label and page dimensions. Refer also to the properties box in TP3.
Labelling Software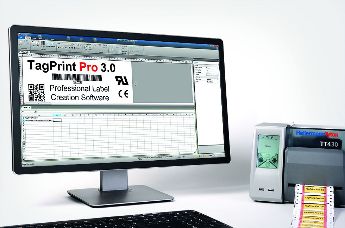 To complement the range of thermal transfer printers and ribbons available HellermannTyton also offers labelling software TagPrint Pro which easily imports a variety of image types into the label design.
Benefits at a glance
Easy and intuitive label/marker template design
WYSIWYG
Print to multiple printers at one time
Save jobs in a queue and print all at one time with "Print later" function

Connect or import directly from other databases including Excel, Access, text files
Text, graphics and barcode functionalities
Full text editing functions
Inverse, flip, and mirror image options for graphic images
Print log available
Software & Drivers
For software & drivers please see our download area: https://www.hellermanntyton.com/sg/downloads/software-and-drivers
Shrinkable markers, ID tags and thermal transfer labels

Material
Label type

TrakMark DS

TT4030

TT430

Ribbon
TCGT

TULT
TTRC+
TTDTHOUT
TTRW
TT822OUT8
TULT DS
TTDTHOUT
TLFX
TTDTHOUT
TLFX DS
TTDTHOUT
TDRT
TTDTHOUT
TDRT DS
TTDTHOUT
THTT
TTRHT
THTT DS
TTRHT
TLFD DS
TTDTHOUT
TIPTAG HF
-
TTDTHOUT
TIPTAG PU
-
TTRC+
TIPTAG MC
-
TTDTHOUT
TTRW
TAGUL
-
TTDTHOUT
TAGPU
-
TTRHT
TAGLF
-
TTDTHOUT
TAGDR
-
TTDTHOUT
TAGHT
-
TTRHT
Helatag 1209
-
TT932DOUT
Helatag 323
-
Helatag 892
-
TT822OUT
Helatag 1211
-
TT822OUT
Helatag 880
-
TT822OUT
Helatag 1216
-
TT822OUT
Helatag 1220
-
TT822OUT
TT122OUT
Helatag 1221
-
TT822OUT
TT122OUT
Helatag 1204
-
TT822OUT
Helatag 1206
-
TT822OUT
Helatag 1213
-
TT822OUT
TTRW
Helatag 823
-
TT822OUT
Helatag 1203
-
TT822OUT
Helatag 1208
-
TT822OUT
Helatag 951
-
TT822OUT