Shipbuilding: robust cable management solutions for high levels of efficiency
Safety on board and reduced costs thanks to durable, certified materials for shipbuilding


The sea is notorious for its tough conditions. In the inside of a ship, everything has to be extra safe, with fire protection a key factor when it comes to certifying the materials used. This is where our cable management solutions for shipbuilding and marine environments come in. Specially developed for the shipbuilding industry, they are halogen-free and carry the certifications necessary to fulfil all requirements. Furthermore, with heat-resistant products like our cable ties made from PA 46, we deliver just the right response to questions of functionality under extreme conditions like they exist in the shipbuilding sector.

The durability of this material has not only been proven for many years in other industries, but is being continuously demonstrated in long-term tests under real conditions. Our cable management portfolio includes a viable solution for any combination of extreme conditions, including strong mechanical stress in the shipbuilding sector.
We know what's required. And 20 years of shipbuilding experience certainly come in handy


We have been serving the shipbuilding industry for more than two decades. A lot has changed in the IMO field in that time; marine technologies have become more complex and material certifications have become more stringent. For us, experience does not mean resting on our laurels, but is always a starting point for developing brand-new solutions to meet your needs.

Our durable products help you meet the twin goals of increased safety and greater efficiency in shipbuilding.
Product quality that offers dual benefits for shipbuilding: safety and efficiency


Meeting the rigorous certification requirements for materials used in shipbuilding is our top priority, along with the durability of our products. This gives rise to sophisticated cable management solutions that enable you to enjoy two key benefits: added safety and efficiency gains from reduced maintenance expense.
A reliable way to safeguard cables in ships: the HA40 and MA40 heat shrinkable tubes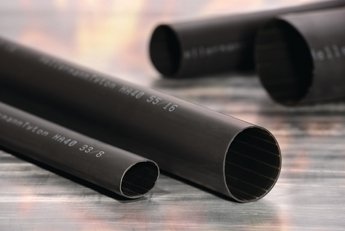 Developed for extreme conditions in the shipbuilding industry, our HA40 and MA40 heat shrinkable tubes are flame-retardant and resistant to solvents, acids and alkalis, are self-extinguishing and fulfil all key shipbuilding requirements, including the demanding DNV GL (Det Norske Veritas Germanischer Lloyd) certification. Moisture and corrosion don't stand a chance.

Thanks to the durability of the material, you will be able to reduce the amount spent on maintaining your cable bundles – and safety levels will increase, too.
Cable routing without the need for a screw fixing: the PMB5 paste mount for shipbuilding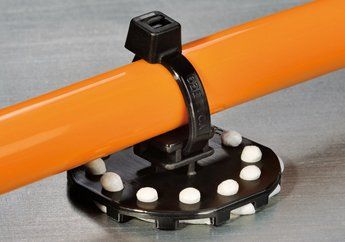 This in-house development keeps on performing in places where other cable mounts have long given up, for example, where it's not possible to drill holes.

By virtue of the ingenious shape of the mount the PMB5 can even be affixed to uneven surfaces. This unique design, coupled with simple mounting with a paste adhesive, makes it indispensable for the shipbuilding industry.
Unshakeable, easy to mount and tough as they come: heavy-duty mounts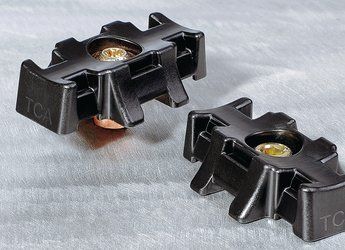 HellermannTyton heavy-duty mounts for shipbuilding are suitable for a vast array of applications and are ideal for extreme conditions in which your cabling is exposed to severe vibration and displacement forces.

The bushing on the steel heavy-duty mounts enables a high level of tightening torque.
Quick and reliable bundling, even when space is tight: the LPH175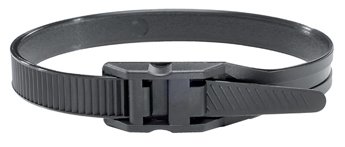 This cable tie LPH175 has not only been awarded key shipbuilding certification from DNV GL and Bureau Veritas, but also boasts a unique head geometry, with the flat design enabling rapid installation, even when space is at a premium. Its smooth interior and broad contact area offer outstanding protection for your cables. What's more, the protruding end can be cut flush with the MK10-SB tool, without giving rise to any sharp edges.
MBT series cable ties. On the ball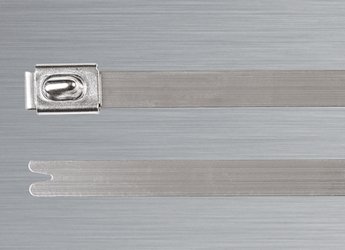 Often, the solution is simple. All you have to do is think of it. Take stainless steel MBT cable ties with their patented ball lock, mechanism for example, which have always been a unique answer to extreme conditions in the shipbuilding industry.

Following insertion and tightening, backward motion is kept to a minimum thanks to the resistance of the cable harness. The small ball wedges itself within the tapered head to hold the cable tie firmly in position. So far, so good.
One of our engineers was still not satisfied, however, and felt that there was room for improvement in terms of handling. The insertion process could still be accelerated. As a result, he cut a V-shaped section into the edge of the cable tie.

We call this the 'swallow's tail'. The small ball is now moved to exactly the right position as soon as the cable tie is inserted, meaning that the insertion process is quick and completely secure. The extended bar at the bottom of the head has strengthened the lock so much that the holding force has risen by 52 per cent.
Typically HellermannTyton. Our engineer can now relax – and so can you. After all, our MBT series cable ties not only vaunt holding forces of up to 7,000 newtons, but are resistant to both chemical influences and heat.

What's more, the cable ties can be mounted in a jiffy with the HDT16 and the MK9SST manual tensioning tools.
The world is changing all the time. And so is shipbuilding


As we have already been serving the civilian and military shipbuilding industry for more than two decades, it goes without saying that we monitor what's happening in the sector – from luxury super-yachts, cruise liners, multi-purpose ships and tankers to naval vessels such as aircraft carriers and submarines. What are the trends and innovations? How do ports and shipyards respond to the pressure of international competition? What are the driving forces of tomorrow? Read our research and ideas on the issue here.
Things can get hot below deck. We have the right solutions to even help the number-crunchers stay cool


Cable management solutions in shipbuilding should do one thing above all else: meet the very latest requirements. The issues of climate change and emissions reduction are here to stay, along with the latest standards also relevant to shipping. If a ship is to be allowed to dock at major international ports in future, its emissions figures will have to be below a set threshold. With new propulsion systems, this is achieved by means of an increase in the combustion temperature. Therefore, all cables and cable routing systems (such as mounts, cable ties and tubing) in close proximity to the relevant machinery will have to withstand temperatures of around 150 °C.
Here, HellermannTyton not only has the right products in the form of PA 46 cable ties, but also the very latest certifications relevant for the shipbuilding industry, which brings us neatly back to our central issue: safety and durability – the twin benefits that are our hallmark.
Be on the safe side. With the right certification for shipbuilding


Our corporate culture is shaped by our engineers: everything is carefully planned, development never stops and we leave nothing to chance. It therefore goes without saying that we ensure that our efforts always go hand in hand with the latest international shipbuilding certifications, whether issued by
- DNV GL (Det Norske Veritas Germanischer Lloyd),
- ABS (American Bureau of Shipping) or
- BV (Bureau Veritas).
You will find our products certified according to IEC 62275 here.