Cable management solutions for the defence industry
Robust and reliable cable management products in military equipment applications
HellermannTyton products enable technicians to reliably install, fix, insulate, identify, connect and protect electrical cables and network connectivity infrastructure.

We are expert in the design and manufacture of cable management accessories built into and around mission-critical wiring harnesses by defence industry contractors.
Robust and reliable – on land, in the air and at sea – our portfolio of products for defence industry builds and maintenance projects are approved to the appropriate military and aerospace standards.

HellermannTyton is a supplier of certified products for military cable management applications.
Featured product: heat shrink boot with high temperature resistance
Join our heat shrink experts in this video as they showcase the HellermannTyton heat shrink boot, manufactured from adhesive-coated "L" material, which is resistant to operating temperatures up to 200°C.
Do you need a cable part that can withstand extreme stress?

Our products are designed to withstand everything that will be thrown at them – like vibration, extremes of temperature and weather, fire, chemicals and salt water.
No matter where your equipment is deployed you can rely on the design and manufacturing expertise and the quality of the metal, plastic and heat shrink materials we use.

Providing robust and reliable parts for fastening, protecting and marking electrical systems is HellermannTyton's speciality.
Top tip: Heat shrink flexibility at low temperatures
How do you ensure that heat shrink shapes stay flexible at low temperatures? The clue is the glue: Watch as our heat shrink experts demonstrate TSA-200 hot melt adhesive tape for applications operating at very low temperatures.
Are you looking for specific defence industry standards?
Does your part need to be resistant to chemical agents and/or corrosion? Does your part need to be resistant to high temperatures? HellermannTyton has a tried-and-tested solution to thousands of electrical engineering challenges.
All the parts in our defence industry portfolio have been tested to the stringent requirements of the VG, MIL (SAE) and DEF Stan norms governing the construction of military vehicles and communications Equipment.

Details of all aerospace standards that relevant parts meet can be found in our Aerospace Brochure on this page: www.HellermannTyton.ae/aerospace-industry
Do you need extra part design know-how for refurbishment projects?
We have amassed a wealth of industry know-how over 80 years that you can profit from. HellermannTyton is a respected development partner of choice for defence industry contractors around the world.
Wherever you are, we are never far away from your build, maintenance or refurbishment projects. If we don't already supply a specific part that meets your individual requirements, we are happy to discuss bespoke solutions with you.
HellermannTyton is ready to serve your needs in all global regions. Please use our contact form staff listed here.
Cable management solutions for specialist utility vehicles
Rugged terrain presents a host of challenges to the cable harness and integrated electronic equipment in any vehicle. Combine regular exposure to sand, mud, water, vibration, shock, aggressive chemicals and extreme temperatures in military operations and you have a recipe for corrosion, fatigue and wiring failure if the chosen components are not up to the task.
Because we know that the right cable management parts are mission critical and vital to the safety of personnel in transit, HellermannTyton offers a wide range of fastening, fixing, insulation and protection products for applications in military vehicles with different roles.

Adhesive-lined heat shrink shapes, and tubing prevent corrosion. Markers and clamps keep everything organised and in place.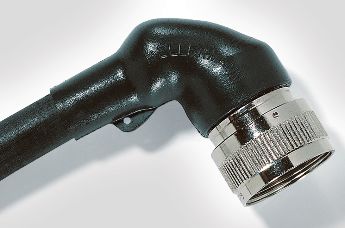 Moulded shapes in our Helashrink Series provide strain relief and environmental sealing for harness systems when used in conjunction with a circular grooved adaptor.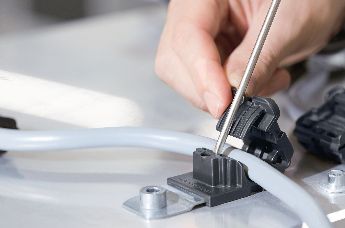 The Ratchet P-Clamp's patent-pending design makes it extremely versatile for managing wire harnesses and cables. Its rugged construction and specialised materials are perfect for heavy duty applications, indoors and outdoors.
Are specialised components for your system solution the right choice?
Our product development teams design, manufacture and supply bespoke parts or complete cable management solutions for harnesses in wheeled and tracked vehicles. We are happy to advise electrical engineers where you need to call on additional expertise around material and design characteristics.
Cable management for fixed-wing and rotary aircraft in defence roles
Do you need to reduce the weight or change the characteristics of a specific product in your aircraft wiring harness? Draw on decades of our industry know-how – HellermannTyton has excellent long-standing relationships with the European aerospace industry.
We specialise in lightweight fastening solutions and fixing components manufactured from high performance thermoplastics that deliver exceptional heat resistance. From the early days we have been supplying military and civilian aircraft manufacturers with application tools and markers for their cabling.

The tiny details matter when you contend with thousands of operating hours, temperature extremes and high mechanical stress, it's reassuring to know that you have tried-and-tested cable accessories on board.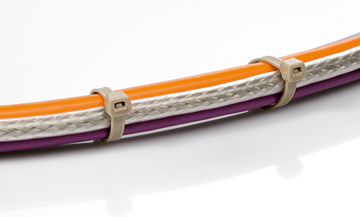 PEEK cable ties withstand temperatures from -55° C up to +240° C. They are resistant to gamma radiation and chemicals-even acids. The tie is outside-serrated and the head geometry optimised to minimise the risk of any damage to cable insulation.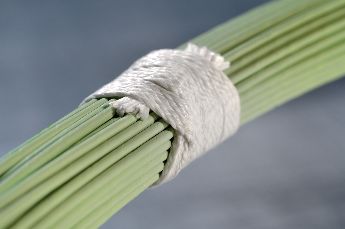 High-quality lacing cord tapes are predominantly used to bundle harnesses safely in aerospace applications. They are available in a wide variety of shapes, sizes, materials and coatings and are manufactured to meet the most demanding industry specifications.
Cable management for vessels and equipment in marine environments

HellermannTyton has been serving the shipbuilding industry for more than two decades. A lot has changed in the IMO field in that time. We keep abreast of changing material and safety specifications so that our cable accessories help keep your marine equipment build on an even keel.
Our products have been tried and tested on a range of surface and submarine vessels. They are resistant to salt water corrosion and vibration. We can also design and manufacture custom parts that help overcome cable routing challenges in surface and submarine vessels.

Saltwater and standard cable management accessories don't mix well together. HellermannTyton fastening, fixing, protection and identification products for marine environments are robust and corrosion-free.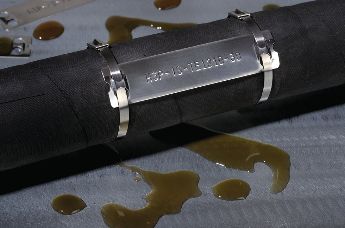 M-BOSS Compact markers are designed to remain legible even under extreme conditions. The stainless steel withstands abrasive cleaning and the embossed information remains clearly visible even after paint, grease and dirt are removed mechanically with wire brushes or pressure washers.
Liquid-tight LTS conduits, combined with LTS fittings, provide IP68 and IP69k ingress protection. LTS conduits deliver exceptionally high compression, tensile and impact strength. The smooth outer cover is resistant to liquid fuel, oils and grease.
Top tip: fluid-resistant heat shrink tubing
High fluid resistance is critical to many heat shrink tubing applications. Medium wall SE28 heat shrink tubing (shrink ratio 2:1) is resistant to diesel, aviation fuel and hydraulic fluids.
Cable management for electronic equipment and connectivity
You can trust HellermannTyton components to do the job you expect of them. Because we have been in the field with countless defence projects over the past decades, we understand exactly how mission-critical the secure fastening, fixing, insulation, protection and identification of the wiring of signals and communications equipment in mobile operations and challenging environments can be.

Electro-magnetic protection for critical wiring and reliable environmental sealing for cable connections with heat shrink moulded shapes are just two goals we can help you meet.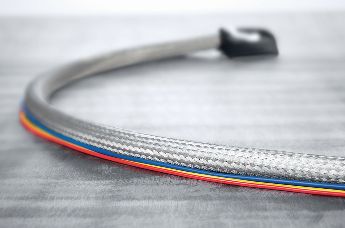 VG-approved, Helagaine HEGEMIP-VG metal braided sleeving is designed for defence industry applications. The flexible and expandable sleeve ensures excellent electromagnetic protection and provides very good abrasion resistance.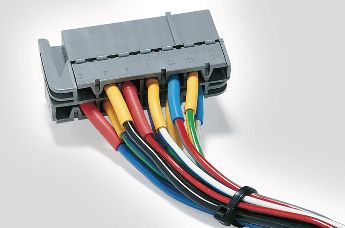 Thin-walled heat shrink tubing is used extensively for electrical and mechanical protection. This high-performance polyolefin tubing shrinks fast and is a popular choice for sleeve marking and wiring circuit identification.

Robust quality you can rely on when the going gets tough
HellermannTyton products meet the needs of electrical engineers and technicians in the defence industry.
No matter where your equipment is deployed we design our products to withstand everything that will be thrown at them.
Robust parts for military equipment and wiring that is deployed under extreme conditions including vibration, UV, high and very low temperature, fire, chemicals and salt water.
We look forward to you putting us through the paces in your field tests!
Contact Defence Industry