Solar plants: achieve stable profits more quickly.
With cable management solutions from HellermannTyton
Our aim is to make your solar plants a success. Save money by reducing servicing costs
It may sound easy, but it's our job to help you make a profit – by which we mean a lasting one. We focus in our own special way on cable management solutions for solar plants. But then we are the experts when it comes to routing cables through photovoltaic plants in an intelligent and robust manner. Your benefit: considerably reduced servicing costs. Our work helps ensure that solar power remains a fully competitive product that can be traded reliably.

Solar energy is our strength. Whether you're looking for the right cable ties, flexible marking and identification devices or complex systems for the tool-assisted assembly of cable ducts, we are a partner you can count on.
HellermannTyton INSIDE
Take a sneak peek
Look behind the scenes at HellermannTyton and find out what makes us tick. Our employees, who think of nothing but products and how to maximise functionality, have their say. Our cameraman decided to find out more.
Comprehensive cable management solutions for solar plants


As one of the world's leading manufacturers of specialist cable management solutions for solar plants, we are committed to boosting the efficiency of our clients' systems. We are well aware that electricity generated by renewable energies is subject to never-ending competition, which is why each and every one of our innovations bows to the dictates of efficiency, even during the planning phase. If you opt for HellermannTyton products and solutions when installing your solar panels, you can expect a long-term commercial benefit.
Raising the bar: your special PV installation


We offer an extensive product portfolio for the solar industry. But there's more. Your project is unique – and we are able to develop the perfect solution for your needs in the form of a bespoke concept. For example, we have developed the MiniEdgeClip mount for projects where customers require panels with a low height and particularly narrow edges.

For us, a spirit of partnership always forms the cornerstone of shared success. Put us to the test!
Solar plants: a global success story built to last


When Alexandre Edmond Becquerel discovered the photovoltaic effect in 1839, he could never have envisaged how far the technology would come. Solar panels were first used for independent power generation in the late 1950s when they were built onto a solar sail in space. They now supply us with cost-effective energy here on planet earth and make a competitive contribution to meeting the world's energy needs.

Solar energy has excellent credentials. Just to give you an idea of the scale: about 12,000 times the world's primary energy needs enter the earth's atmosphere in the form of solar energy every single year. Around 50 per cent of this energy reaches the earth's surface and has the potential to be converted into electricity using current technology. And the technologies of the future will certainly be even more efficient.

Silicon is currently used in the construction of PV panels, but this is a finite and costly resource. There are already innovative solar panels featuring Perovskite, a mineral crystal structure that makes it possible to produce much thinner solar cells and thus apply them to curved surfaces as a film. Perovskite also has potential for the future on account of its ability to exploit blue and green light more effectively.

Regardless of which technologies will be developed and deployed for renewable energies such as power from the sun, HellermannTyton has – and will continue to have – the most efficient cable management solution for your plant.
Durability pays off. And that's pretty much all there is to it
Usually, we don't believe in simple recipes for success, but on this occasion the issues involved are clear. When choosing materials and building made-to-measure cable management solutions for the renewable energies sector, we have one overriding aim: durability. As a result, your maintenance expenses – and therefore your operating costs – are kept to a minimum whilst the operational stability of your solar plant rises.

In other words, our product quality is designed to boost your commercial success.
Easy to install on solar panels: the EdgeClip range


Quick and straightforward mounting without the need for tools reduces costs when it comes to the installation of cable ducts. The EdgeClip is simply attached to the edge of the frame. The high-performance, double-tempered spring steel is effective at reliably counteracting even strong extraction forces. Our EdgeClip range has been designed for edge dimensions of 1.0 to 6.0 mm and, when combined with our Q- and OS-Series cable ties, is a quick and simple fixing solution for solar plants.
An exceptionally safe way to save money: the EdgeClip MSC2
It holds on so tightly that there is no need to drill any holes: with the EdgeClip MSC2, we have developed a cable management solution that even makes cable ties surplus to requirements.

Corrosion-resistant stainless steel, coupled with a sophisticated design, ensures lasting hold, even in deserts or salty air. Thanks to smooth inside edges, it can be quickly installed by hand, without damaging the cabling.

Specially developed for solar plants, the EdgeClip MSC2 makes it possible to run two cables side by side with excellent stability.
Reduce installation time by 25 per cent: with Q-Series cable ties
Efficient solutions make sense. And time is money, especially when it comes to the installation of photovoltaic panels. Thanks to the open head design of the Q-Series cable ties, cables can be inserted so quickly that the efficiency of your solar plant is even boosted during the installation phase.

The process is shortened by two steps, and the tie is made from weather-resistant polyamide. In other words, this is a cable management solution that pays off immediately and in the long term, too.
Built for extreme conditions: the stainless steel ties of the MBT-Series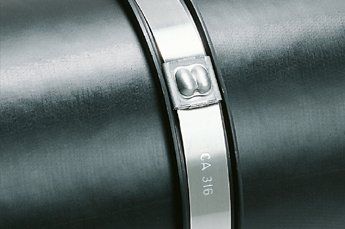 Solar power is often generated in unforgiving environments, such as the desert. The mere fact that PV panels and their cable systems are subject to intense levels of UV radiation makes the MBT Series cable ties so invaluable.

That's because the stainless steel we use can withstand the hottest temperatures and sustained sunlight. What's more, the MBT Series is resistant to chemical influences and is surprisingly quick to install, which brings us back nicely to the efficiency of solar plants.
Make a statement for eternity: with the M-BOSS Compact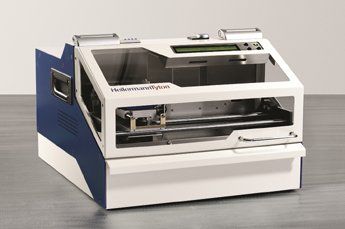 Are your solar panels subject to all weathers around the clock? Because the answer to this is clear, we have developed a solution to make faded and weather-damaged marker plates a thing of the past.

Our M-BOSS Compact embossing system gives you the power to quickly and permanently mark stainless steel plates. As the name says, the machine is very compact and has already proven its mettle in offshore environments. This level of reliability translates well to use in solar plants.
HellermannTyton helps you get ahead. Because the chemistry is just right
When cost factors meant that galvanised steel started replacing aluminium as the construction material of choice for solar plants, we responded by developing new solutions. The chloride found in the air in coastal areas reacts with zinc and water, creating a kind of solvent that attacks conventional polyamides. This leads to an inevitable rise in maintenance costs.
HellermannTyton always sheds light on the matter. By working systematically


Any electrical installations carried out in the United States are subject to the NEC (National Electrical Code). This standard governs the setting of operating voltages and stipulates how different kinds of cabling, fuses, and plugs can be arranged, connected, and fitted. It is subject to numerous amendments on the part of individual states and municipalities, with special labels required to communicate this mass of information. First published in 1897, the NEC is updated annually.

It goes without saying that this complicated system leads to a great deal of confusion and scope for error, not to mention significant costs, on the part of the companies doing the work. The NEC is an especially costly hurdle in the photovoltaic sector, where new, complex solar plants are a day-to-day phenomenon. The problem kept gnawing away at our colleagues in the US. The result – the HellermannTyton solar installation labelling kit – is the simplest solution since the invention of the light bulb when it comes to shedding light on complicated matters. We have created an ingenious and ready-to-use labelling system that satisfies all NEC requirements pertaining to the solar energy industry.
We know that labour costs can only be reduced if the right tools are always at people's fingertips. Typically HellermannTyton.
Solar plants require a new kind of thinking


Renewable energies are a highly specialised field. And photovoltaics has its own set of rules. Before we are satisfied with a new cable tie, it has to pass a series of demanding tests. For example, we asked the internationally renowned Fraunhofer Institute for Solar Energy Systems ISE to show no mercy when subjecting our materials to extreme UV conditions. The intensive UV radiation test simulated a three-year dose of outdoor weather. Even though these results were outstanding we were not satisfied with laboratory tests alone and then sent the cable ties out into the desert for three years, with the real-life extreme conditions found in the Negev region of Israel giving us the confirmation we needed.

In other words, cable management solutions from HellermannTyton are excellent news for your business model (which involves generating calculable profits from solar power), as the maintenance costs are kept to a minimum.
Global demand for solar energy continues to soar. So don't lose sight of innovations
Global demand for solar energy continues to soar. So don't lose sight of innovations


The global wattage for solar power has doubled since 2010, with the global market posting annual growth of 15 per cent. HellermannTyton observes trends, and reports on innovations. Don't miss out.
The sun rises in the east, and sets in the west. But a lot happens inbetween


The solar energy industry is in a constant state of flux. The global community craves more and more energy, one innovation follows another and the feed-in tariff regulations for solar plants are constantly being changed, as are special subsidy models. HellermannTyton remains alert and is able to spot new trends.

Photovoltaics is an exciting area. We will keep you posted on successful battery storage systems and tell you which cable management solutions actually make sense in specially built switching cabinets.
We don't just keep pace. We set the pace. Market and competitor analysis for your business


We don't just wait around until a new innovation appears out of the blue. Instead, we do our own development work, analyse the market and our competitors on an ongoing basis and systematically implement the insights we gain as a consequence. By virtue of an extensive global network of experts and developers, we are always generating new ideas whilst others still persist with old ways of doing things. This gives you the advantage of being able to quickly and successfully respond to ongoing changes in solar technology by using our products.