Chemical Industry

Fixing solutions designed down to the tiniest detail

In the chemical industry, every detail is of the utmost importance and places demands on the tiniest of components. This also includes cable management – from extremely robust or acid-resistant cable ties, to embossed identification systems which can withstand aggressive substances and extreme temperatures, HellermannTyton provides innovative solutions tailored to the specific requirements of the chemical industry.

The extent of the product portfolio reflects our long-standing industry expertise. HellermannTyton has provided outstanding product quality and has met the high demands of various industries for over 75 years. Top quality, a culture of innovation and strong customer-focus ensure that we maintain and build on our position as a valued solutions partner.

HellermannTyton also meets the special quality requirements of the chemical industry with extreme precision, for example in terms of reliable thermal and chemical resistance. Our special high-quality product range and our continual striving for innovation form the basis of all that we do. And so it stays like this, HellermannTyton develops a new product every three days on average.


HellermannTyton cable ties – as diverse as the range of applications
Metal product solutions – when the going gets tough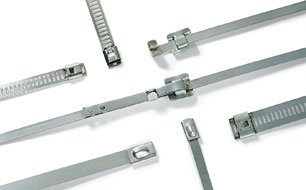 Metal product solutions – for when push comes to shove

HellermannTyton also offers comprehensive fixing solutions made of metal for the chemical industry. For example, the MBT Series, with its irremovable stainless steel ball lock head for applications involving extreme loads and/or very high temperatures.

Important for the chemical industry:
MBT Cable Ties made of SS304 and SS316 stainless steel (similar to V2A/V4A)
Patented, irremovable single, or double ball-lock head
Outstanding chemical resistance
Resistant to high temperatures
Non-flammable
Further information on the MBT stainless steel series can be found here.
Heatshrink products – as tight as a second skin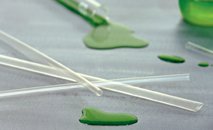 Insulation and protection from mechanical loads, particularly at high temperatures
Transparent TK20 polyvinylidene fluoride (PVDF) Heatshrink Tubing allows for low friction movement. The high-quality raw material stands up well to high temperatures and various chemicals. The semi-rigid, self-extinguishing tubing is also perfect as splinter protection for glassware.
Important for the chemical industry:
Thin-walled and robust
Self-extinguishing
High operating temperatures
Very good mechanical strength
Good chemical resistance
Further information on TK20 Heatshrink Tubing can be found here.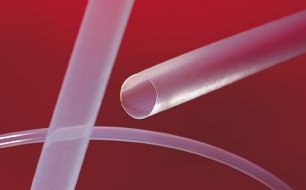 TFE2/TFE4 Heatshrink Tubing - when things hot up
Resistance to aggressive chemicals and heat are key requirements for applications in the chemical industry – especially where highly sensitive heat sensors or pH measuring devices have to run smoothly in corrosive media. HellermannTyton's TFE2/TFE4 polytetrafluorethylene (PTFE) Heatshrink Tubing is extremely thin and highly resilient to abrasion, chemical influences and extreme temperatures. Available in 2:1 and 4:1 shrink ratios, the product is perfectly suited for protecting such sensors and pH measuring devices in the chemical industry.
Important for the chemical industry:
Extremely thin-walled and robust
Operating temperatures up to +260 °C
Very good mechanical strength
Very good chemical resistance
Provide your measuring devices with reliable protection. Further information on TFE2/TFE4 Heatshrink Tubing can be found here.
M-BOSS – reliable identification for the chemical industry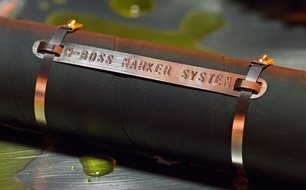 The compact and quiet M-BOSS Compact Stainless Steel Embossing System is very user-friendly and can be used to emboss compatible M-BOSS Compact Marker Tags in less than a minute. Stainless steel markers are excellent for areas where corrosive products or cleaning agents are on a daily basis, such as in the chemical and pharmaceutical industries. The embossed marking remains permanently legible, no matter what it is exposed to.
Important for the chemical industry:
Reliable identification in highly demanding areas
Excellent resistance to inorganic acids, hydrochloric acid, and halogens
Further information on the M-BOSS stainless steel embossing system can be found here.