Electrical tape for professionals: the broad range of HelaTape
Electrical tape HelaTape has many strong points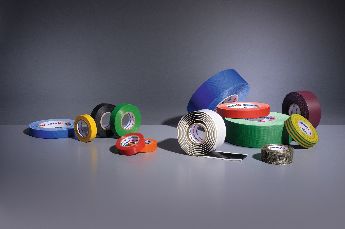 With HelaTape, HellermannTyton offers engineers, designers and electricians a wide range of PVC- and rubber-based electrical tapes that are ideal for insulating, attaching, bundling, sealing and marking cables. Our colored electrical tape in different sizes and materials supports the professional use of the tapes in a wide variety of areas: whether as a fast help for repairing cables, as a tool for sealing connection points, as a visual warning for provisionally laid cables or as a clearly visible cable marker – HellermannTyton tapes have many applications.

This is also reflected in the wide range of adhesive tapes: traditional insulation tape, conductive tapes for shielding, arc and fireproofing tapes, self-amalgamating tapes, as well as textile tapes all belong to the HelaTape family. The types of electrical tape are characterised by different mechanical properties, such as high tensile strength and abrasion resistance, electromagnetic properties, or air- and water-tight seals. This diversity allows the HelaTape family to fulfil most demands.

The use of high-quality insulating tapes provides optimum protection against dust, UV radiation, moisture, dirt, acids, alkalis and solvents, and is possible in a broad range of temperatures. It is tough to beat the efficiency, speed, durability and safety of taping, sealing and padding work. Various certifications vouch for the high quality of HellermannTyton electrical tapes.
How to repair cable jackets?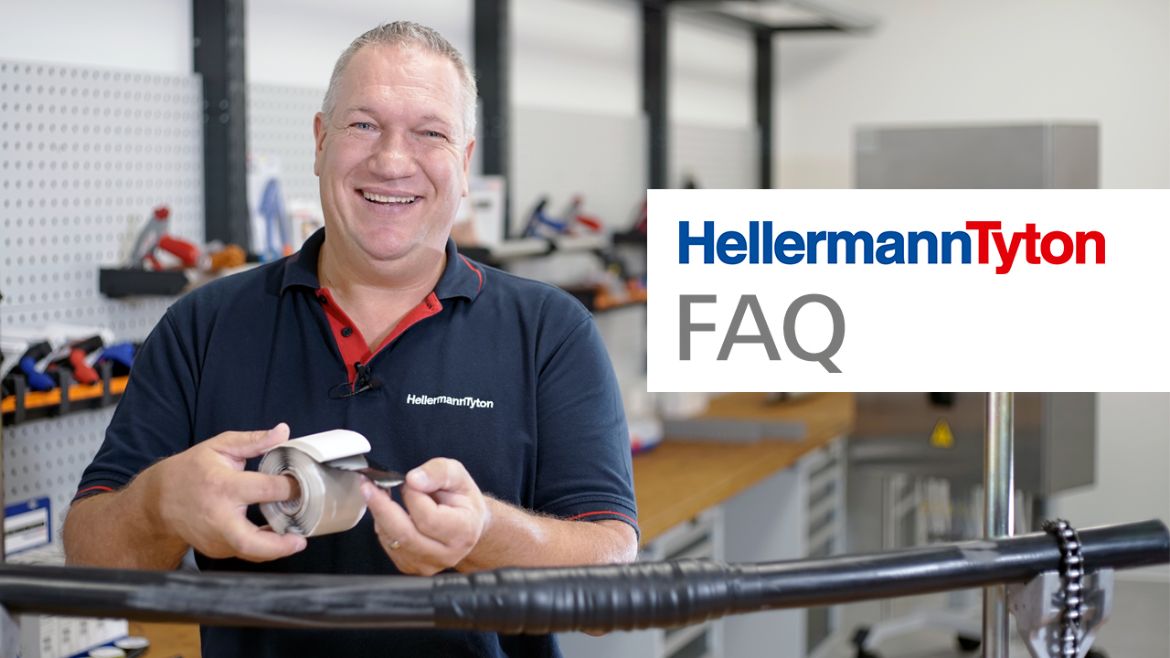 Learn more about our professional electrical tape range: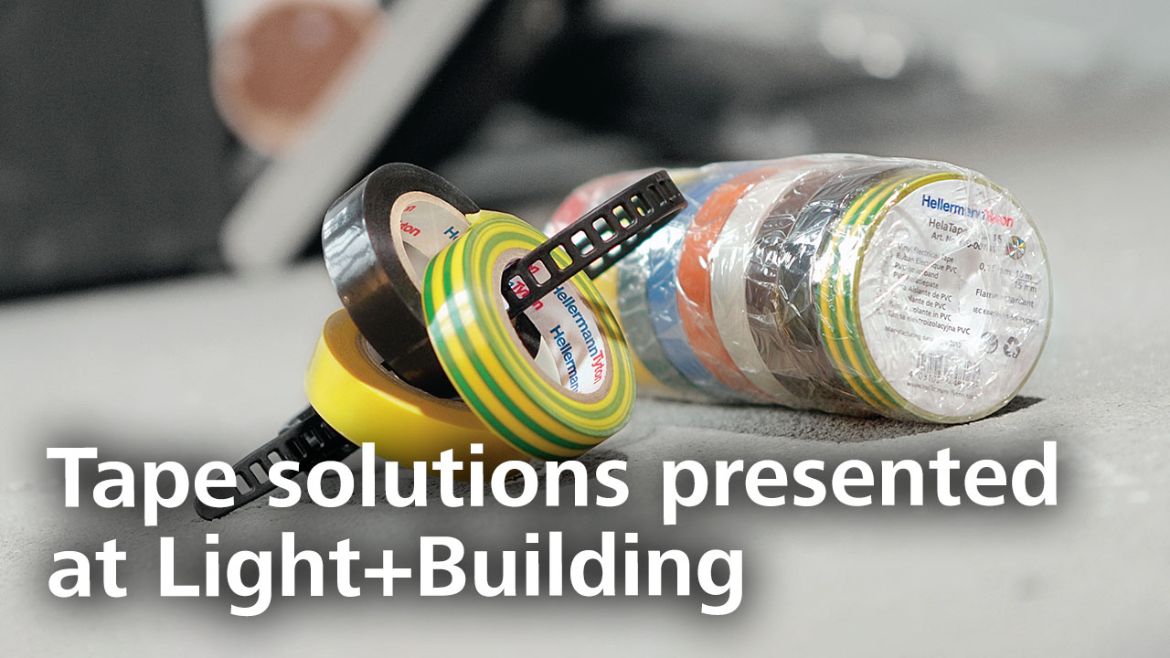 Vinyl electrical tapes - HelaTape Flex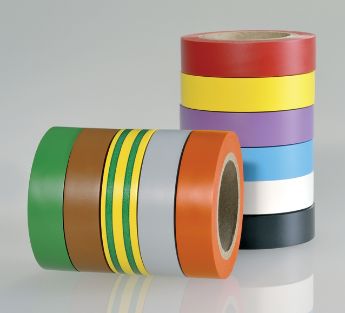 Based on a vinyl film and coated with a balanced combination of high quality rubber-adhesives, HelaTape Flex is characterised by excellent performance and durability. The PVC tapes can be used for insulation, protection, bundling, maintenance, colour coding and many other applications. The range also includes premium tapes with excellent all-weather characteristics and superior performance in cold conditions.
Conductive tapes - HelaTape Shield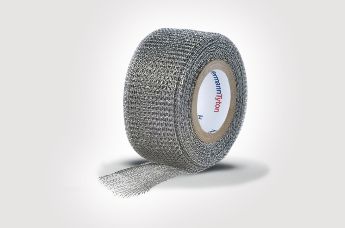 This tape is used for rebuilding strand and insulation shields on high-voltage splices and for shielding all types of electrical connections. The special knit design allows easy application and provides good electromagnetic shielding.
High temperature tapes - HelaTape Power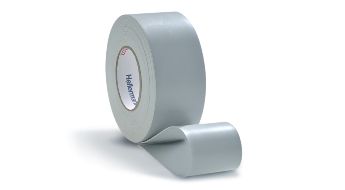 HelaTape Power 410 is an unsupported, liner less, elastomeric tape which offers superior arc and flame resistance. It creates a thermally insulating residue when exposed to fire and is also water, chemical and UV resistant.
High temperature tapes - HelaTape Power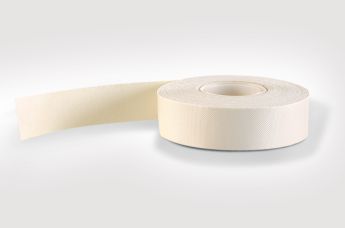 HelaTape 420 is a woven glass fabric tape with high tensile strength and abrasion resistance with a service temperature rating of 130°C.
Self-amalgamating tapes - HelaTape Power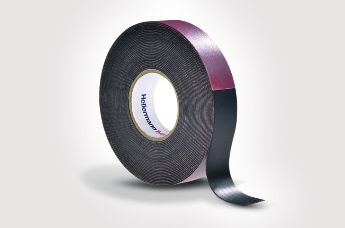 HelaTape Power 600, 650, 800, 810, 820 and 900 are self-amalgamating rubber tapes without glue and are classified for low, medium and high voltage applications. Self-amalgamating tapes are used for air-tight and water-tight sealing.
Textile tapes - HelaTape Tex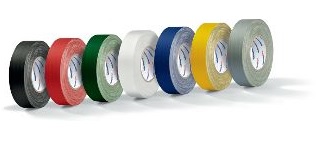 HelaTape Tex cloth tapes are extremely strong in the longitudinal plane and are easy to tear with the fingers in the transverse direction. The range is ideal for protecting, marking, fixing, bundling, patching and repairing. HelaTape Tex is weather-resistant, water-repellent and can be removed residue-free, which is an important characteristic for stage and lighting construction, events and exhibitions.
Electrical tape: HelaTape Flex
Electrical tape: HelaTape Flex 15 – All purpose vinyl insulating tape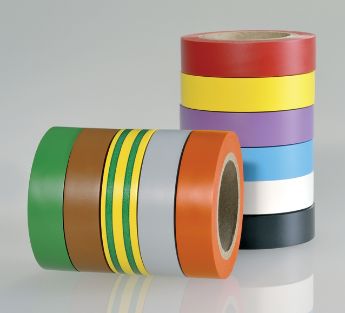 • Polyvinyl chloride insulating tape in many different colours
• Used for insulation, protection, fixing, maintenance, colour coding and more
• Good resistance to abrasion, moisture, chemicals, and varying weather conditions
• Highly flexible with good adhesion level
• Harnessing of wires and cables
• Suitable for mechanical and electrical applications up to 1 kV
• Meets IEC 60454-3-1-5/F-PVCP/90 requirements
• Flame retardant
Electrical tape: HelaTape Flex 20 – Insulating tape for higher mechanical demands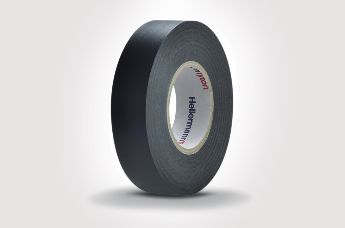 • Special high level adhesive
• Flame retardant
• Suitable for mechanical and electrical applications up to 1 kV
• Additional thickness for quicker layering and added abrasion resistance
Electrical tape: HelaTape Flex 23 – Insulating tape for higher mechanical demands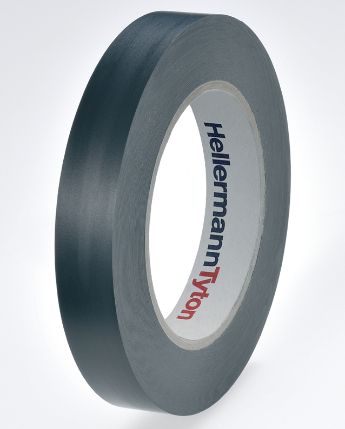 • Special high level adhesive
• Flame retardant
• Suitable for mechanical and electrical applications up to 1 kV
• Additional thickness for quicker build-up and added abrasion resistance
Electrical tape: HelaTape Flex 40 – Insulating tape for higher mechanical demands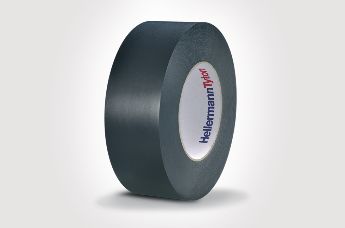 Electrical tape: HelaTape Flex 1000+ Premium insulating tape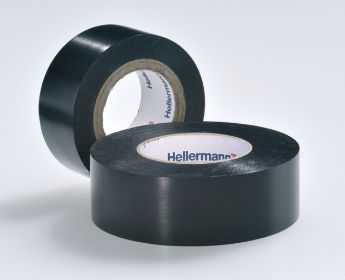 • All-weather, professional grade, self-adhesive vinyl insulating tape
• Excellent performance and durability over wide temperature range from -18°C to +105°C
• Meets IEC 60454-3-1-11/F-PVCP/105 requirements
• Used for insulation, protection, fixing, maintenance, colour coding and more
• Pressure sensitive high quality rubber based adhesive
• Performs continuously at low temperature environment
• Excellent resistance to abrasion, moisture, chemicals, corrosion and UV exposure
• Primary electrical insulation for all wire and cable splices up to 1 kV
• Protective jacketing for low, medium and high voltage splices and repairs
• Harnessing of wires and cables
• For indoor and outdoor applications
• Flame retardant
• RoHS compliant
Electrical tape: HelaTape Flex 2000+ Premium insulating tape for higher mechanical requirements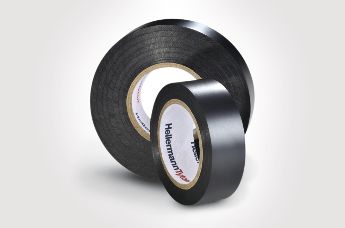 • All-weather, professional grade, self-adhesive vinyl insulating tape
with higher thickness for more mechanical and electrical protection
• Pressure sensitive and aggressive high quality rubber based adhesive
• Performs continuously at low temperature environment
• Excellent resistance to abrasion, moisture, chemicals,
corrosion and UV exposure
• Primary electrical insulation for all wire and cable splices up to 1 kV
Electrical tape: HelaTape Wrap
Electrical tape: HelaTape Wrap 25 – Vinyl tape for corrosion protection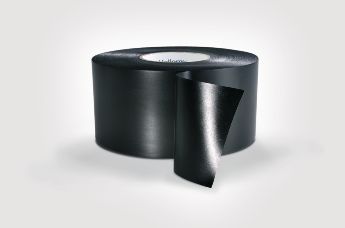 • Special adhesive
• Excellent protection against corrosion
• Complete environmental, mechanical and electrical protection
• Highly resistant to UV, water, oil, most chemicals, bacteria and fungus
• Used for pipes, tubes, and conduits in outside and underground
applications
Electrical tape: HelaTape Shield
Electrical tape: HelaTape Shield 310 – Self-amalgamating, conductive tape for shielding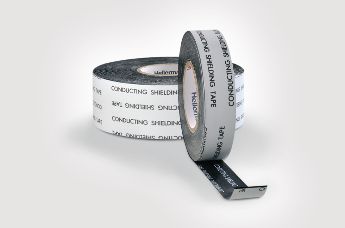 • Self-amalgamating shielding tape made from ethylene propylene rubber
• Electrostatic shielding for high voltage splices and terminations
• Excellent conducting properties
• Prevents corona effect
• Moisture and UV-resistant and easy to apply

Electrical tape: HelaTape Power – High Voltages Tapes
Electrical tape: HelaTape Power 410 – Arc and fireproofing tape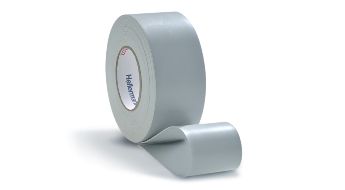 • Unsupported, linerless, elastomeric tape
• Superior arc and flame resistance
• For cable protection in all type of applications
• Excellent flexibility and conformability for easy application
• Creates insulating residue when exposed to severe flame conditions
• Water, chemical and UV resistant
Electrical tape: HelaTape Power 420 – High temperature glass cloth tape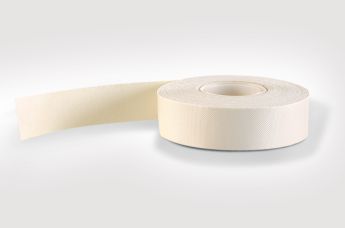 Electrical tape: HelaTape Power 810 – Self-amalgamating high voltage tape
• Self-amalgamating tape for insulating and jacketing splices up to 69 kV
• Halogen-free with outstanding corona, ozone and UV-resistance
• Void-free, electrically stable layering
• Amalgamates quickly
• Protects bus bar components
• Excellent moisture, corrosion and chemical resistance
• Ideal moisture seal for water-proofing applications
Electrical tape: HelaTape Power 820 – Self-amalgamating high voltage tape, linerless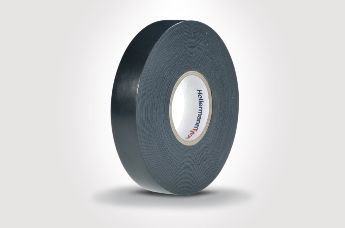 • Ethylene rubber-based, high-voltage, linerless, self-bonding tape
• Excellent electrical, chemical and physical properties
• Building stress cones and jacketing of terminations, bus bars and joints
• High thermal conductivity
• Quicker application due to linerless design
• Uniform and void-free layering
• Excellent stretch to conform to the most complex shapes and contours
• Flame retardent and UV resistant and compatible with all extruded cable insulations
Electrical tape: HelaTape Power – Self-amalgamating rubber tape
Electrical tape: HelaTape Power 600 – Self-amalgamating low voltage tape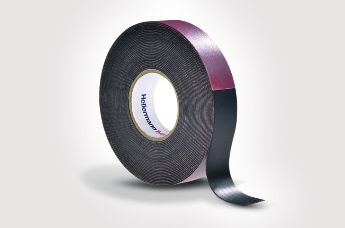 • Self-amalgamating low voltage rubber tape
• Primary insulation at not more than 1 kV
• Easily conforms to irregular shapes and surfaces
• Void-free electrically stable layering
• Compatible with all extruded dielectric cable insulations
• Recommended use in conjunction with HelaTape Flex for outer jacketing
Electrical tape: HelaTape Power 650 – Low voltage butyl rubber tape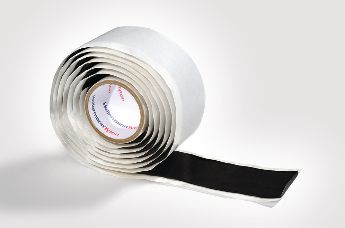 • Self-amalgamating, low voltage insulating compound
• For quick, void-free insulation layering
• Easily moulded by hand to conform to irregular shapes
• Perfect adhesion to metal, all types of cable insulations and jackets
• Excellent thermal stability
• Provides excellent moisture seal
• Resistant to salt water, oil and corrosive chemicals
• Recommended use in conjunction with HelaTape Flex for outer jacketin
Electrical tape: HelaTape Power 800 – Self-amalgamating high voltage silicone rubber tape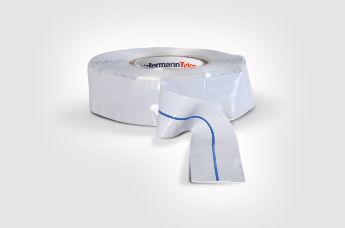 • Self-amalgamating, chemically cross-linked silicone rubber tape
• Triangular cross-section with centre line for precise half-overlapping
• Resistant to creepage and surface erosion
• Fuses into solid mass after application
• Weather, UV and Oil resistant
• No adhesive coating
• Recommended use for high temperature silicone insulated cables
Electrical tape: HelaTape Power 900 – Self-amalgamating extra high voltage tape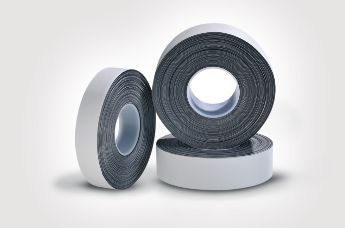 • Ethylene rubber-based, high-voltage tape
• Superior electrical, chemical, mechanical and thermal properties
• Fuses quickly for void-free, electrically stable layering
• Insulating and jacketing splices on power cables up to 138 kV
• Building stress cones and termination jackets for cables up to 35 kV
• Outstanding corona, ozone, chemical and corrosion resistance
• Withstands UV and cable impregnants
Electrical tape HelaTape Tex
Textile tape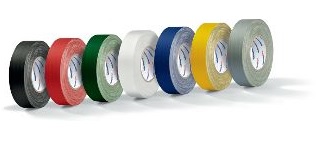 • High quality PE-coated cloth tape with good weather resistance
• Total thickness of 0.31 mm for high tensile strength
• Highly tear-resistant in longitudinal direction
• Easy to tear-off by hand in transverse direction
• Matt surface finish for use in stage constructions and for exhibitions to avoid light reflections
• Useful for various applications like bundling, fixing, identification, marking and protection
• HelaTape Tex can be removed without residues due to high quality rubber based adhesive
Electrical tapes – Product Overview
Product Name
Product Description
Tape Thickness (mm)
Width (mm)
Length
Typical Applications
HelaTape Flex 15

General purpose vinyl insulating tape in many different colours

0,15
15,0
10,0 m

Protective jacketing, harnessing, bundling, colour coding

HelaTape Flex 20
General purpose vinyl insulating tape with higher thickness
0,2
19,0
20,0 m

Protective jacketing, harnessing, bundling

HelaTape Flex 23

General purpose vinyl insulating tape with higher thickness

0,23
19,0/ 38,0
33,0 m

Protective jacketing, harnessing, bundling, abrasion protection

HelaTape Flex 40

General purpose vinyl insulating tape with very high thickness

0,40
50,0
30,0 m

Protective jacketing, harnessing, bundling, abrasion protection

HelaTape Flex 1000+
All-weather, professional grade vinyl insulating tape, highly conformable, many colours
0,18
19,0/ 50,0
6,0 m/ 10,0 m/ 20,0 m/ 33,0 m

Primary insulation, protective jacketing, colour coding

HelaTape Flex 2000+

All-weather, professional grade vinyl insulating tape, highly conformable, extra thick

0,21
19,0/ 25,0/ 38,0
6,0 m/ 20,0 m/ 33,0 m
Primary insulation, protective jacketing, abrasion protection
HelaTape Wrap 25

All-weather anti-corrosion vinyl tape with special adhesive

0,25
25,0/ 38,0/ 50,0/ 100,0
30,0 m
Protection against corrosion, UV, water, oil, most chemicals, bacteria and fungus
HelaTape Shield 310
Self-amalgamating tape with excellent conducting properties
0,76
19,0/ 38,0
4,6 m/ 9,1 m
Cable shield continuation for high voltage connections.
HelaTape Shield 320
Copper shielding braid, tin-plated
25,0
4,6 m

Continue electrostatic shielding

HelaTape Power 410
Elastomeric, linerless tape with superior arc and flame resistance properties
0,76
38,0
6,0 m
Fire and electric arc proofing on high-energy cables
HelaTape Power 420
Woven glass fabric tape with a service temperature rating of 130°C
0,18
19,0
20,0 m
Short-circuit proof bundling of medium voltage cables
HelaTape Power 600
Low voltage self-amalgamating rubber tape, suitable to irregular shapes and surfaces
0,76
19,0/ 38,0
6,7 m
Insulation of low voltage wire splices and split bolt connections
HelaTape Power 650

Low voltage self-amalgamating tape for quick, void-free insulation layering

3,20
38,0
1,5 m

Covering split bolts, bus bar edges and connections, provides excellent moisture seal

HelaTape Power 800

Self-fusing silicone rubber tape, resistant to creepage and surface erosion

0,51
25,0
9,1 m

Insulation of high temperature silicone cable and terminating high voltage cables. Weather, UV and oil resistant

HelaTape Power 810

High voltage self-amalgamating insulating and jacketing tape

0,76
19,0
9,1 m

Primary electrical insulation for cables through 69kV

HelaTape Power 820

Linerless high voltage self-amalgamating insulating and jacketing tape

0,76
19,0
9,1 m

Primary electrical insulation for cables through 69kV

HelaTape Power 900
Extra high voltage self-amalgamating insulating and jacketing tape
0,51
19,0/ 25,0/ 38,0
9,1 m
Primary electrical insulation for cables through 138kV
HelaTape
Tex
PE-coated cloth tape with matt surface finish to avoid light reflections
0,51
12,0/ 15,0/ 19,0/ 25,0/ 50,0
25,0 m/ 50,0 m

Bundling, fixing, identification, marking and abrasion protection