eKUBE Marking Machine
The eKUBE is a compact, portable, fully functional, standalone embossing machine. Specially designed to provide low/medium volume stainless steel marking applications. eKUBE, ideally for industrial applications that require lower processing speed than that offered by more experience systems or as a back-up unit for larger systems.

Operation and interface
The eKUBE features a silent embossing mechanism can therefore be placed in any industrial or office environment without disturbing employees. The eKUBE is equipped with an automatic indexing loader and finished markers are ejected through a side slot. Built-in software provides easy user interface. Data entry is via a portable storage media or wireless LAN.

Compact and sturdy design
The compact and ergonomically designed eKUBE not only fits into any office of factory environment but also sturdy and resistant. Made of aluminium and self-extinguishing plastic material, allows the eKUBE to withstand harsh industrial environments, ensuring perfect functioning over time.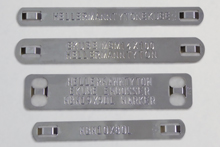 eKUBE Markers are used in all areas where severe mechanical or chemical conditions occur e.g. offshore industry, marine engineering, petrochemical industry, mining, underground or on radio and cellular masts where mark permanence is critical. The raised surface of the embossed print ensures that the text remains visible even with dirt, grease, and paint cover the marker.