Cable holders made of plastic: easy installation and secure retention anywhere
Your application deserves the right cable holder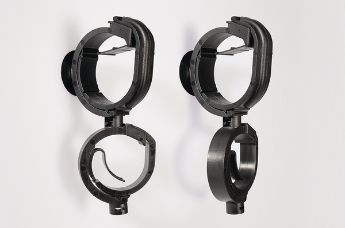 When it comes to securely fastening and routing cables and wires, cable holders are indispensable. No matter whether you need to reliably retain individual cables and wires or parallel route several wires, holders from HellermannTyton provide you with a practical and versatile solutions.
They are suitable for a wide range of applications and can be combined with other products.
Typical application examples
The growing number of electronic components in various branches of industry presents cable management with lots of new challenges. For example, the lines must be routed without rattling or be easier to install.
In addition, it must be possible to maintain the cable safely and quickly.
HellermannTyton offers cable holders for specific industries and fields of application, including:
automotive industry
commercial vehicles
white goods
panel building
electrical installation
mechanical engineering
Application advantages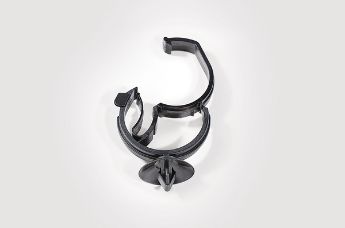 Time saving due to quick and simple installation of the cable organizer onto hoses, pipes or other lines
Orderly installation thanks to parallel routing of several cables and wires
Rotatable fastening elements for flexible cable routing in different directions or to compensate for movement
Especially when it comes to replacing heavy metal brackets, plastic mounting solutions help save space and weight.
Cable holder solutions overview
With fir tree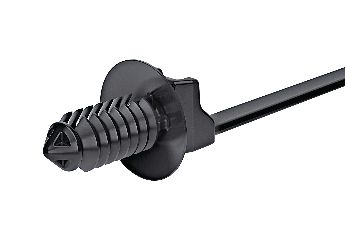 Covers a wide range of hole sizes, and sheet metal and wall thicknesses
Can also be used in blind holes with threads
Clear time advantage over screwable holders
Protection against dirt and water ingress thanks to plate
Low insertion force when fixing the holders by means of lamellas
Frequently used wire holder, for example, in car body construction, in the electrical industry and in switch cabinet construction
Available in many different versions
Without drilling – with weld stud holder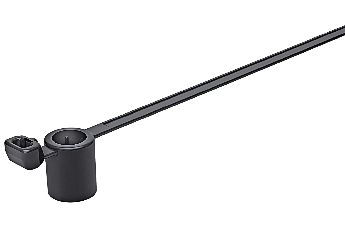 Tool-free mounting on weld studs or threaded studs
No drill holes necessary
Easy to press on ("soft push")
Easy to loosen later by turning to the left
Primarily used in the automotive industry
Available in different versions

For screwing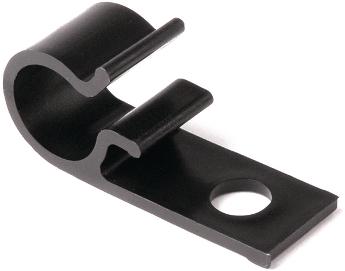 In addition to fastenings for sticking, plugging or clipping, HellermannTyton also offers classic cable clips for screw mounting. Examples include our various cable tie mounts or screwable D-clips.
Your advantages:
Time- and cost-saving fastening
Simple fixing of the cables in the holder
Available in different sizes
Holder for easy clipping on – thanks to push and click system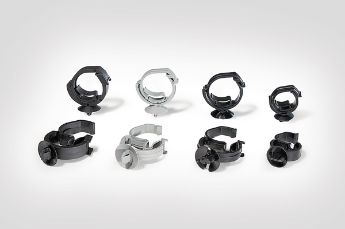 The requirements for orderly and safe cable routing are becoming more and more demanding. With HellermannTyton AHC series you can fasten your cables and wires quickly and easily wherever reliable cable routing is required – for example in panel building, in mechanical engineering or in vehicle assembly.
Advantages of the AHC cable holder clips:
Practical push-and-click system for easy mounting
Tight, secure fit of the cable
Snapper allows for tolerances
Rattle protection when installed in applications that move
Self-closing and re-openable for maintenance
Fastening with fir tree or arrow head foot part for round and oval holes
Available in black or grey and also without the foot part
Cable holder for routing several cables
Holders from HellermannTyton can guide cables in different directions depending on the requirements. Twistable couplers even allow rotation of up to 360°. The decisive advantage: This compensates for movement of the cable in the application and helps minimise the risk of cable damage – which also has a positive impact on maintenance costs. HellermannTyton offers any other cable protection solutions.
Interconnectable automative harness clips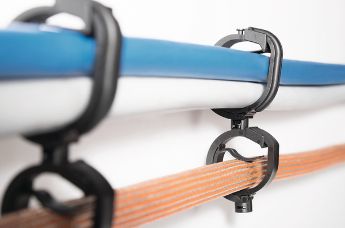 The cable holders in the IAHC series are used wherever several cables have to be routed in parallel. As with the AHC series, the cables are fastened quickly and easily using the push-and-click system. Particularly practical: Several IAHC holders can be connected and combined with each other by means of a coupler. The fastened cables can all be mounted on a single fixing point.
The wire holders of the IAHC series are characterized by the following advantages:
Fast assembly due to the simple push and click system
Parallel routing of several cables with few fixing points over long distances
Universally applicable across industries
Self-closing and reopenable for maintenance, saving time and effort
Colour: Black
Available in different versions

Learn more, here in this video.
Holder for subsequent assembly
Omega clips (OC-series)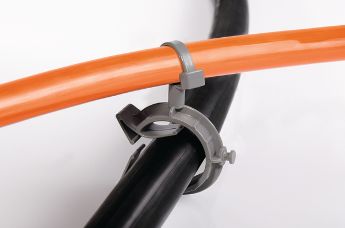 The subsequent attachment of additional cables to ready-made cable harnesses is a constant challenge for fitters. With the HellermannTyton Omega clips, cables and wires can be retrofitted easily and with little effort. The Omega clips are used wherever secure attachment of cable harnesses is required, especially in the automotive industry.
Advantages of the OC cable clips:
Noise insulation thanks to special rattle protection
Movement compensation thanks to 360° rotation
Simple combination of two cable harnesses
Ideal for subsequent installation of additional cables on pre-assembled cable harnesses
Available in different versions

The special design of the Omega cable clip prevents cables from slipping out.
Additional cable tie dimensions are available for OmegaClips 1A and 2. There are two loop-in directions to choose from. Cable ties up to 5 mm wide can be used with the CBTO series.
Noise insulation thanks to special rattle protection
Large selection for different cable harnesses
Available in different sizes
Secure hold of the cable thanks to design
Simple clipping onto hose, pipe or cable
Movement compensation thanks to 360° rotation
Holder to simply fix existing cables, hoses and pipes in place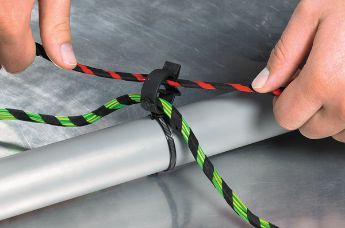 Advantages of the MOC and LOC series:
Movement compensation thanks to rotation
Several cables can be bundled together with a bundle diameter of up to 45 mm
Subsequent attachment to pre-assembled cables possible
Cable ties can be looped in in any direction
Available in different versions
Frequently Asked Questions
How do you fasten cables that run in different directions?
Many HellermannTyton holders have rotatable connections. One example is the IAHC fastener, which makes it easy to couple two cable holders and rotate them 360 degrees. In which industries it is used? How it works in detail? See here in this video:
How can cable rattling be prevented?
The sprung lever design of our Omega Clips and the AHC/IAHC series ensures a firm hold on the cable and prevents it from rattling in the holder.
Are there cable holders for managing and routing cables without drilling?
Special cable organiser for weld studs or threaded studs can be pushed on by hand, without tools. If drilling a mounting hole or screwing is not an option in your application, HellermannTyton also offers fastening clips for edges and self-adhesive cable tie mounts and clips.