Cable tie guns for optimal tensioning and smooth cutting of cable ties
Cable tie guns – reliable, convenient, for long-term use
Cable tie guns are not all the same – and for good reason. While some cable tie processing tools are suitable for areas that are difficult to access, other cable tie guns must function without electricity when used in mobile applications. There are also the durability and efficiency requirements of modern series production to consider: Cable tie tools must always be reliable and convenient, even during long-term use.
That's why HellermannTyton offers a comprehensive range of cable processing tools, including manual and pneumatic cable tie guns plus unique automatic cable bundling tools.
Cable tie guns are the ideal solution for optimum tensioning and cutting of cable ties flush to the cable tie head. They eliminate the sharp snags that conventional wire cutters leave behind. Cable tie guns also help accelerate bundling processes and professionalise the tying of cable ties made from various materials and sizes.
See in this video how to cut cable ties safely and without sharp edges using a professional cable tie gun. The EVO7 cable tie gun featured is one of the most lightweight yet robust manual cable tie enough for industrial processing of cable ties:

Automatic cable tie guns
Autotool 2000 CPK: fully automatic, fast and process-reliable cable tying system
The electrically operated Autotool 2000 CPK bundling tool is a leader in terms of process reliability and automation. It works fully automatically and accelerates cable tying processes considerably. Bundling, threading, tensioning and cutting are done at the touch of a button – with constant quality. This automatic bundling tool makes faster and more effective processing possible.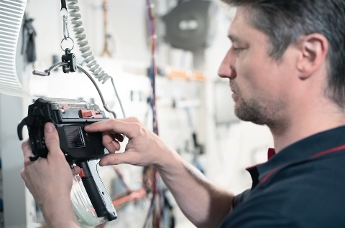 Your advantages:
Cycle times: 0.8-1.2 seconds per setting depending on quality and force
Bundle diameters up to 20 mm
Includes "HT Data Management" software for complete documentation of each repetitive cable tie processed
Special functions by software, e.g. definition of the bundle diameter independent of the bundle size
Software settings controllable via display or computer
Processing of bandoleers of 50 cable ties or reels of 3,500 cable ties
Ideal for applications with high quality requirements, e.g. large-scale series production
Power supply unit CPK – input: 100-240 V AC, 50/60 Hz; output: 25.2 V DC max. 150 W
Optional: Power supply via CPK power supply unit with control box for integration into automatic production systems
Suitable accessories:
Tutorial video:
Autotool System 3080: fully automatic, waste-free continuous bundling tool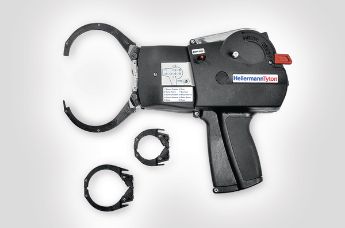 The electrically operated Autotool System 3080 tool enables waste-free tying of bundles at various diameters. The tool can be used both stationary and flexibly. A special device available for the Autotool System 3080 allows it to be integrated fully into automated production lines.
The tying of foot parts with a cable tie gun can be fully automated.
Your advantages:
Cycle time: 1.1-2.4 seconds, depending on bundle diameter
Bundle diameters up to 80 mm
Constant, high quality bundling
Outside-serrated strap protects the bundle from damage
No strap wastage thanks to separate closure head
Includes three quickly changeable jaw sizes with diameters of 30 mm, 50 mm and 80 mm
Industry-compatible and material supply efficiency through two-piece consumables
Consumables are available on reels of 500 m tape and chains of 5,000 heads – ideal for large-scale production
Accessories:
How to use the automatic cable tie gun ATS3080?
From a handy hanging device to automatic production in a robot: By using our Autotool System 3080 you can save a lot of time.
Discover now the different possibilities for your application:
Manual cable tie guns
For plastic cable ties: EVO7 and EVO9 – precise, reliable tensioning and cutting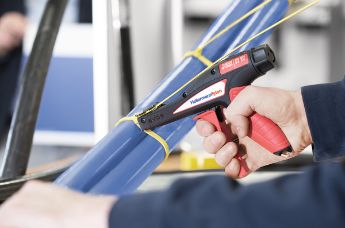 With the EVO family of cable tie guns, HellermannTyton offers you the most ergonomic and durable manual cable tie tools on the market. Comfort and function are combined to provide high-quality repeatable cable tying results at a wide variety of tension settings.
The technology in the EVO7 and EVO9 cable tie tools significantly reduces the amount of force required to tension and cut cable ties. The EVO family cable tie processing tools feature quick adjustment for changing between tension setting ranges.
Your advantages:
Ergonomic, non-slip grip for comfortable, secure grip
TLC (Tension/Lock/Cut) technology for fast, precise tying and cutting
with minimal effort
Very low-maintenance thanks to extreme durability
Simple tension adjustment using rotatable knob
Flush, safe cutting of the cable tie directly at the head
Virtually no recoil
Cable tie widths: EVO7 up to 4.8 mm; EVO9 up to 13.5 mm
Narrow nosepiece for installation in tight spaces
Individually adjustable and calibrated tension settings

For metal cable ties: MK9SST, up to 16 mm strap width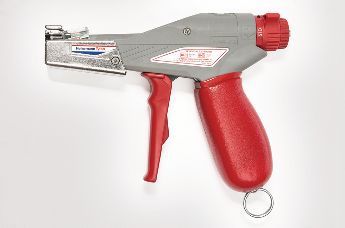 With its lightweight, ergonomic design, the MK9SST cable tie gun is an ideal tool for applying the MBT series stainless steel cable ties. Although it is used for applying stainless steel cable ties, the MK9SST cable tie gun enables work to be carried out without operator fatigue.
For easier handling the tensioning is fully adjustable by means of a quick two level control with an additional fine setting. This feature means that damage to the bundled materials is easily avoided. The cable ties are automatically cut off flush with the head when the preset tensioning level has been reached.
Pneumatic cable tie guns for plastic cable ties
MK3PNSP2: fast, reliable, low maintenance processing tool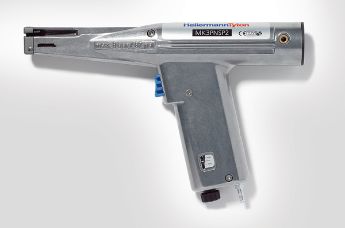 The MK3PNSP2 cable tie gun is pneumatically operated. It is characterised by its high bundling speed and is often used in large-scale series production, on wiring harness assembly lines and in cable assembly.
The processing of cable ties is very easy with this cable tie gun: A push on the button and the cable tie is tensioned and automatically cut directly at the head. The smooth cut edge prevents injuries.
The strap cut-off is ejected automatically to eliminate process interruption.
Your advantages:
Especially robust metal housing
For use with cable ties up to a width of 4.8 mm
Seamless tension adjustment
High bundling speed
Flush cutting
The HellermannTyton Service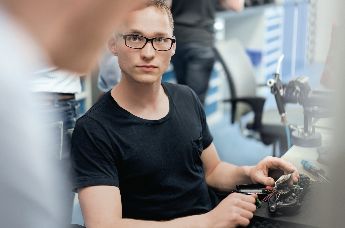 Our in-house team of developers can also implement individual cable tie tool requirements for you – from the smallest cable tie guns to automatic bundling systems.
In collaboration with you, we can make specific adjustments or develop completely new cable tie bundling tools. At our site in Tornesch, Germany, HellermannTyton technicians manually install and service some 500 parts per automatic cable tie gun.
Fitters and installers can rely on cable tie processing tools from HellermannTyton to be of the highest quality and effectiveness.

The range of cable tie guns is bigger than you probably imagine: Our portfolio includes cable tie tools for every need
Automatic cable tie guns for plastic cable ties:
Pneumatic cable tie guns for plastic cable ties:
Pneumatic cable tie guns for stainless steel cable ties:
Manual cable tie guns for plastic cable ties:
Manual cable tie guns for stainless steel cable ties:
FAQ – Frequently Asked Questions
What does TLC mean?

TLC technology stands for Tension/Lock/Cut. This bit of technology makes all the difference in the EVO7 and EVO9 cable tie guns.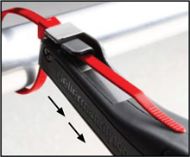 1. Tension
The cable tie is tensioned to the preselected tensile force.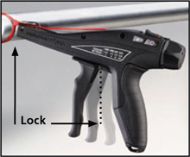 2. Lock
Once the selected tensile force is reached, the cable tie gun automatically clamps the cable tie strap. The manual force usually required to keep the cable tie tensioned is no longer required.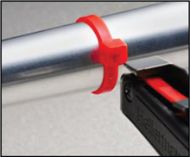 3. Cut
All the user has to do is pull the cable tie gun lever back gently. Very little force is required for the flush, smooth cut.
The benefit of the TLC technology in the EVO cable tie tools is immediately obvious to anyone used to conventional cable tie guns. Locking the tensioned strap before the cut reduces the mechanical strain on the tie, the blade and the operator's muscles. The lack of recoil helps minimise repetitive strain injuries when operators manually tie thousands of cable ties per shift.
Where do you need automatic bundling systems?
Automatic bundling systems such as the Autotool 2000 CPK and the Autotool System 3080 are suitable wherever very large numbers of cable ties have to be processed and constant quality guaranteed - e.g. in wiring harness assembly, in the automotive industry, in industrial plants or in the packaging sector.
How does a cable tie gun work?
Cable tie guns are often used when cable ties are processed in large quantities. The aim is to make it easier to tie large quantities of cable ties quickly and cut off the excess strap flush to the tie head. Cable tie guns also help tension and cut cable ties in hard-to-reach spaces, or at awkward angles, using one hand.