Insulating tubes – in various materials, for all requirements
Insulation tubing and accessories
Find the right insulating sleeve for your application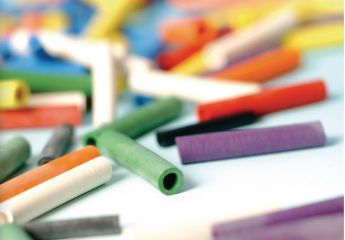 Each application has its own requirements for an insulating tube. That's why there are insulating sleevings in a wide variety of materials. For instance, in addition to neoprene sleeves and silicone tubings, there are also PTFE tubings and PVC tubes.
Apart from the material properties, many other factors also play an important role, such as wall thickness, colour or length of the insulation material.
Next to insulating tubing and grommets in all variations, HellermannTyton also offers suitable tools and lubricants for easier assembly.
Neoprene tubes
Neoprene tubing: highly elastic, for almost any cable diameter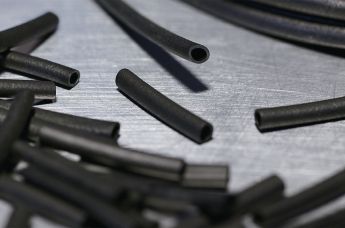 Chloroprene sleeves (other term for neoprene) are used for insulation and protection against mechanical stress in many areas of wire technology or electronic component production.
Thanks to their high expansion factor of up to 500 %, neoprene sleeves cover many cable diameters with one size.
Standard wall chloroprene tubes:
Thin wall chloroprene tubes:

Whether blue, yellow or black, thin or thick walled: Neoprene tubing is available in different colours, quantities and material thicknesses.
Silicone tubes
Silicone sleeves: halogen free, suitable for demanding environments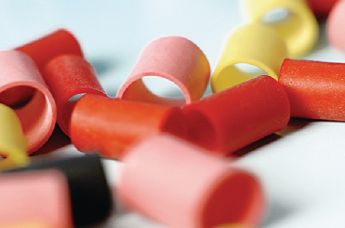 The halogen free silicone rubber tubing Helsyn SLP with its good insulating properties is particularly suitable for sensitive equipment, for example, in the aerospace or rail industries.
These and our other sleeves are available in international resistor colour code or transparent. In addition, HellermannTyton silicone tubes come in a wide range of lengths and wall thicknesses.
Silicone tubing features and advantages:
Highly elastic tubing
Withstands up to +250°C intermittent temperature
Covers many cable diameters with one size
Available in cut lengths
PTFE tubes
Thin walled PTFE tube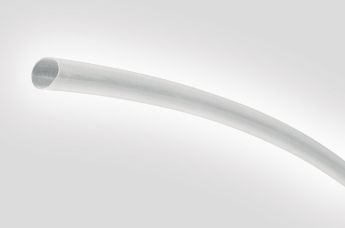 The FE insulation tubing range is manufactured from a high grade extruded PTFE. It is perfectly suited for demanding industrial applications with high temperatures and/or aggressive chemicals.
In addition to the often used natural variant, FE series tubing is also available in red or brown. FE PTFE sleeving is also available in many other versions.
PTFE tubing features and advantages:
Thin walled
Transparent or coloured
Very high temperature resistance
High abrasion resistance
Good resistance to aggressive chemicals
Availabe on reels
PVC tubes
PVC tubing: highly flexible, available in various colours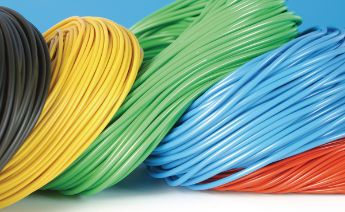 PVC tubing from HellermannTyton is found in many areas. Thanks to the variety of colours, this tubing is often used in the field of industrial identification.
A remarkable quality feature: We coextrude our green-yellow PVC hose in two colours. That means the colours are not just printed, but permanent. This makes it especially durable and reliable.
PVC tubing features and advantages:
Minimum working temperature -30°C
Maximum working temperature +85°C
Available in black, blue, brown, grey, green/yellow
Supplied on reels or coiled
Three-pronged pliers
Sleeve expander tools for processing insulating tubes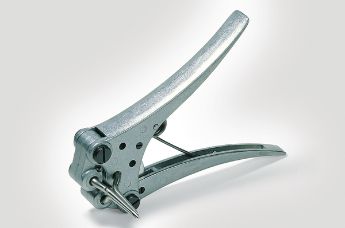 A useful tool for easily applying sleeves and grommets on all types of cables and connectors is the NA series sleeve expander tool.
This is how you use the special pliers:
1. Simply slide the sleeve onto the 3 prongs
2. Squeeze the pliers to expand the sleeve
3. Slip the sleeve over the cable or conductor and release
To make installation even easier, we recommend the use of Hellerine lubricant.
For higher loads the VA2.5/5 three-pronged Expansion Tool made of stainless steel is recommended. Replacement pins are available for both these and the NA-series three-pronged pliers to accommodate a wide range of diameters.
Lubricant
Installation aid for insulation tubes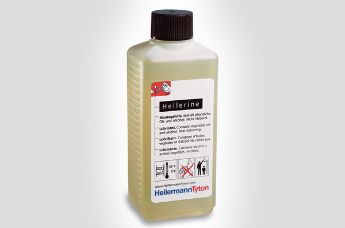 To simplify the installation of insulating sleeves and grommets, we recommend specially formulated Hellerine lubricant.
Containing 99% plant-based oil Hellerine is used to lubricate the sleeves during assembly. The fluid evaporates free of residue shortly after use.
Hellerine sleeve and grommet lubricant does not discolour and is available in different sizes: