P-clamps for mounting cables and hoses
Ratchet P-Clamp will streamline your cable management
Metal and plastic p-clamps have evolved. Take a look at the Ratchet P-Clamp!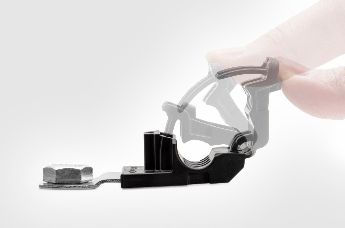 At HellermannTyton we thrive on taking established design conventions for fixing parts and improving on them. So when we received a request for a more versatile way to mount and clamp cables and hoses on construction machinery we rose to the challenge.

We applied our extensive cable tie design know-how to solve all the mechanical limitations of the conventional p-clamp that our customers told us about.
The result is the Ratchet P-Clamp. It's the most user-friendly, versatile, and rugged p-clamp for fastening and fixing cables, wires, pipes and hoses on the market. Like a clip, you can also re-open and re-use it hundreds of times.
Design makes the difference: how you benefit from our Ratchet P-Clamp
As the name says, we added a ratchet mechanism to the p-clamp. It gives users the power to fix the clamp separately from the fastening stage. A great additional feature is that you can release the ratchet mechanism, re-open the clamp and re-use it.

We matched the Ratchet P-Clamp features to the following usability requirements:
Freedom of choice: separate pre- and final assembly stages.
Easy installation: close with one-hand.
Eliminate pinching: rifling centres the bundle automatically.
Re-open, re-use: easy release with a flathead screwdriver.
Reduce part inventory: four flexible sizes (6.2 mm - 51 mm diameter).
Configure flexibly: multiple mounting plate dimensions available.
Maximise durability: toughened, UV-resistant PA66 and corrosion-free steel.
Optional extras: soft inserts and tension tab for repetitive quality.
Advantages
Advantage 1: you can pre-install the p-clamp before you close it
With the Ratchet P-Clamp you can now determine the desired route for your cables, hoses or pipes before the cables, pipes or hoses have even been delivered!

This two-stage operation also gives you the freedom to split the fastening and the fixing task in the time sense, or between different installers or contractors. You can even attach the clamps to the harness before it is installed.
The Ratchet P-Clamp can easily by closed with one hand to the optimal diameter. The audible clicking as the ratchet assures the user that the clamp has closed securely. See how easy it is to work with in our video clip.
The Ratchet P-Clamp also meets the quality assurance needs of process engineers. An optional tension tab and HellermannTyton's EVO series cable tie gun enables installers to close the p-clamp with exactly the same tension every time.
Advantage 2: you can re-open the clamp any time for maintenance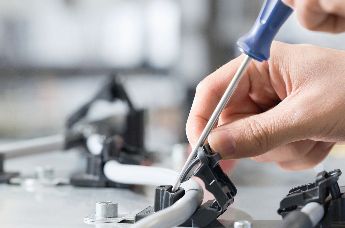 In contrast to plastic omega snappers, push-in clips or two-piece fixing clamps, we designed the Ratchet P-Clamp so that it can be reopened simply without having to dismantle the bundle from the fixing points.

This is a huge benefit for maintenance engineers, especially when cable harnesses need to be adapted or modified to fit new connection points.

Simply insert a flathead screwdriver in the slot and lever out the ratchet closure. The plastic material is especially toughened so that you can re-open and re-use the clamp time and again.
Advantage 3: reduce the number of clamps and clips in your inventory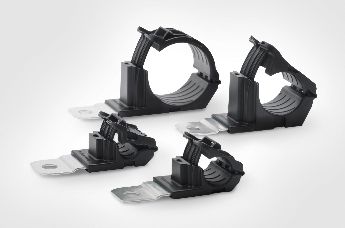 The Ratchet P-Clamp is available in four sizes that are all adjustable.

Part inventories can be significantly reduced and installers no longer need to carry a wide range of clips in different fixed diameters.

With just four Ratchet P-Clamps and optional soft inserts you can do without dozens of aluminium clamps and metal or plastic p-clips.
All four Ratchet P-Clamps (for bundle diameters from 6,2 mm to 51 mm) are easy to combine on a single mounting point.
The zinc-plated stainless steel mounting plates are available in different lengths and with four different mounting hole sizes (M6, M8, M10 and M12).
The robust stainless steel mounting plates also come in four different angles (offset 180° and 90° or raised 30° and 15°). This makes it possible to combine several clamps on one fixing point by stacking the mounting plates. Spacing your cable clamp mounting couldn't be easier.
The variety of angles and mounting plate lengths and dimensions of the Ratchet P-Clamp make an endless number of alignments and configurations possible. Here are some of the most popular configurations that our customers are using:



Two clamps fixed face-to-face on one mounting point and two piggy-backed clamps on one mounting point.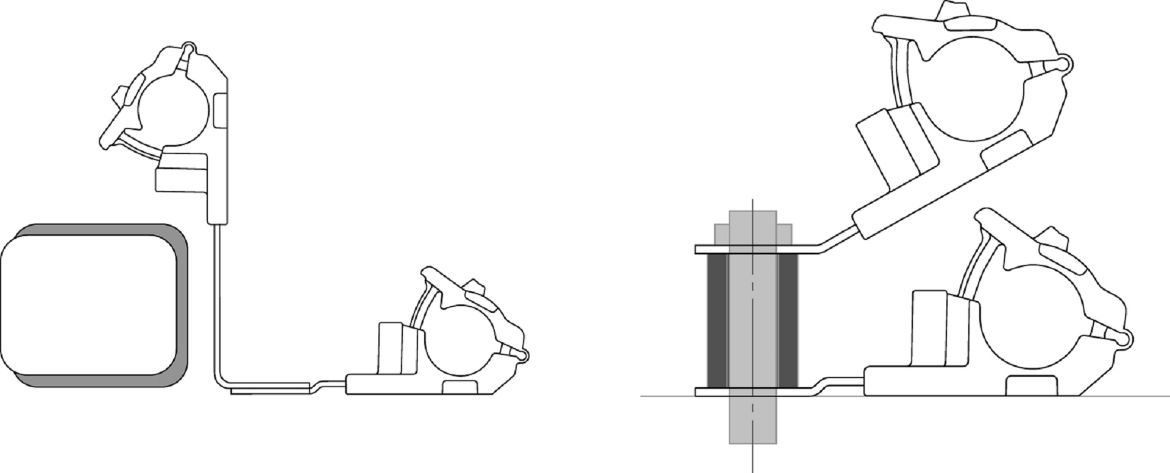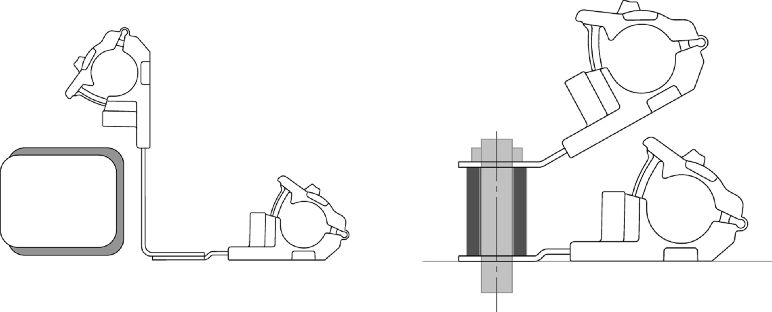 Different angles for routing around obstructions and two clamps stacked on one bolt using a spacer.
Soft silicone inserts are also available for additional protection of sensitive cable insulation. Simply push them into the walls of the clamp before closing. The soft inserts are much easier to apply than rubber grommets on aluminium p-clamps.
Our designers also thought of something on top, which is literally on top!
A saddle on top of the p-clamp makes it easy to attach hoses or leads with regular cable ties. So routing multiple cable bundles in parallel or alongside pipes and hoses is now simple.
You can see this neat feature in this introductory video:
Where are Ratchet P-Clamps being used?


A version of the Ratchet P-Clamp manufactured from polyamide PA66V0 is available for our rail vehicle construction customers. This material meets the fire safety requirements of the European railway standard EN 45545-2. The stainless steel mounting plate is corrosion-resistant. Please contact us here for further information
Renewable energy sources, digital information systems and the electronics behind them continue to evolve in every aspect of our lives. The complexity of the wiring schemes is increasing as a consequence.

The Ratchet P-Clamp is being used by our customers on photovoltaic installations and wind turbine towers, in trains, on ships and on all kinds of heavy duty vehicles like mobile cranes or agricultural machinery.
The clamp is robust and reusable and will not let you down - even in the most demanding environments or at temperatures ranging from -40 °C to +105 °C.
Selection guide
How to select the correct Ratchet P-Clamp for your installation
With the Ratchet P-Clamp, HellermannTyton gives you maximum freedom to configure your cable and hose routing just how you need it. There is no need to compromise.
Here's a guide to help you choose the right Ratchet P-Clamp for your application.
1: What bundle diameter do you have?

You can choose four sizes ranging from small (A) to large (D):
2. What angles do you need to route around?


HellermannTyton Ratchet P-Clamps are available in 180° straight, 15°, 30° or 90° angle variants.
3. What mounting plate length is right for you?

Choose from short, medium or long stainless steel mounting plates.
Please note that the holes are always equidistant to the centre of the clamp, but some angle variants are not available in all three lengths.
4. What hole size do you need for your mounting point?
As Ratchet P-Clamps are designed with heavy duty applications in mind, we offer four different hole sizes for use with standardised bolt sizes. You can choose between:
M6 (6 mm)
M8 (8 mm)
M10 (10 mm)
M12 (12mm)
All our clips
Our complete range of cable clamps and clips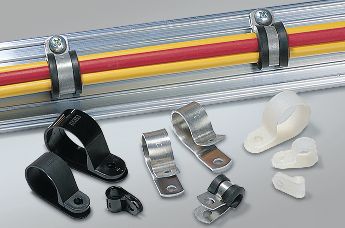 Cable clamps are an inexpensive means for attaching cable bundles - often in parallel to hoses or pipes. Conventional p-clamps are one-piece clips made from metal or plastic that mechanically fasten electrical cables, hydraulic hoses or pipes along their route.


Whether it is manufactured from steel, aluminium or nylon (polyamide 6.6), all these mounting clamps have one thing in common: they look like the letter 'P' from the side when closed, which is how they got their name.
What is a p-clamp or p-clip? How does it work?
P-clamps lock cables and hoses in place and help ensure that machinery, vehicles and equipment keep running. They bracket wires, cables or hoses together mechanically and are fastened securely to an anchor point – usually with a screw or a bolt.

Product engineers at HellermannTyton decided it was time to evolve the p-clamp design – especially for customers with heavy-duty needs. The inherent design limitations of the traditional p-clamp include the following:
The clamp is not securely closed until the fixing screw or bolt is applied.
P-clamp diameters are inflexible, so you have to carry lots of sizes.
Damage to wires can be caused by poorly fitting or misaligned clamps.
Traditional p-clamps can only be reopened by dismantling the entire assembly.
Our solution to the requirements of industrial customers for a rugged clamp that adapts to different bundle diameters is the Ratchet P-Clamp.
Traditional p-clamps still have their place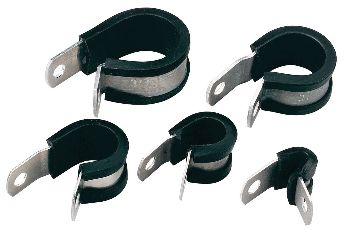 We understand that when it comes to selecting clamps and clips, it's often like the choice between the simple shoelace or the sophisticated buckle on a ski boot. Both do an excellent job at what they are designed for.
So if the Ratchet P-Clamp seems more like rocket science, take a look at our comprehensive range of traditional metal clamps, plastic clips and p-clamp types.
By the way, we also offer lacing cord and lacing tape if that's what you're looking for.