EVO - The New Manual Processing Tool
Minimum effort for maximum performance.
With the EVO Cable Tie Gun, EVO7, EVO9 and EVO9HT, comfort and function are perfectly combined in a processing tool. The heart of the EVO is the innovative and patent-pending TLC technology (Tension / Lock / Cut). This revolutionizes the processing of cable ties through reduced effort during cutting. The clear, flush cutting of the cable tie is very easy, rebounds are eliminated and the physical strain on the user is reduced significantly.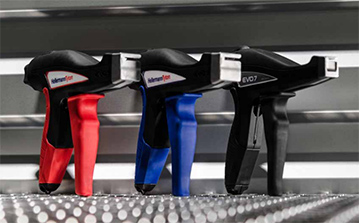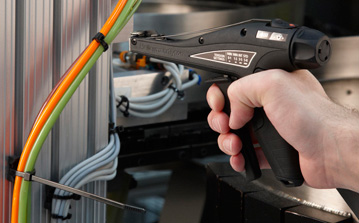 Perfect cutting with the EVO Cable Tie Gun is very easy:
From precise preliminary settings to the perfect cut, EVO allows an even lighter, easier and gentler cable tie processing than ever before. The patent-pending TLC technology makes all the difference.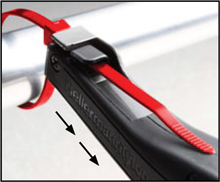 1. Tension
The cable tie is tensed as usual. Use the tension adjustment knob to select your desired tension setting.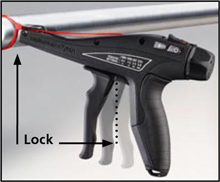 2. Lock
The patent-pending locking mechanism detects when the desired tension is met, and locks the tie in place prior cutting. The manual pressure which was needed before to hold the tie is no longer necessary.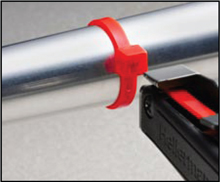 3. Cut
For the final cut very little effort is needed. The operator only needs to advance the trigger enough to cut the tie - without rebounds and without vibration.
Using the EVO the following advantages are at hand:
• Applying cable ties without any operator strain due to patent-pending Tension / Lock / Cut technology (TLC)
• Ergonomic design of housing and handle
• Simple operating
• Quick and easy tension adjustment
• Accurate repeatability of tension values
• Flush cut of cable tie
• Extended slim nose to operate in narrow spaces
EVO is tailored for your application:
• Cable assembly
• Electrical installation
• Cabinet construction
• Building installation
• Mechanical engineering
• Plant engineering