Accessories : HT-KSJ08S-TT
Category 6A Termination Tool, Številka proizvoda: 854-40195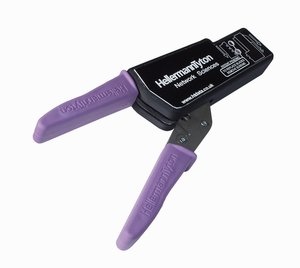 This product is not available anymore.
Lastnosti
For use with HellermannTyton Category 6A Deca¹⁰ Jack
Terminates and crops all 8 cores in one single action
Manufactured with soft ergonomic grip
Quick and easy to use
Uporaba
The Cat6A Keystone tool is required to terminate the cable within the keystone. The tool is simple to use and ensures a good connection, trimming the cores and terminating in 1 single action.
Application 2
The Deca10 Keystone Jack utilises HellermannTyton's patented 10 pin technology to deliver superior Cat6A performance. The die cast shielded body enables exceptional alien cross talk results whilst ensuring that the product is robust and has a high quality finish.
Colour
Mill Finish (MLFS)
Description
The HellermannTyton Deca¹⁰ Keystone Jack has been designed to be 'non-punchdown'. Using the Category 6A Termination Tool all 8 terminations are made at once, helping to ensure quality and consistency of the connections and speeding up the termination process. the single action operation terminates the conductors and crops excess cable simultaneously meaning no further operation is required.
Features and Benefits
Max. of two wires per IDC contact (Same gauge)
Pack Cont.
1

pc.

PART DESCRIPTION
HT-KSJ08S-TT
Product Family
Category 6A Termination Tool
Product Group
Accessories
Short Description
The Deca10 Keystone Jack utilises HellermannTyton's patented 10 pin technology to deliver superior Cat6A performance. The die cast shielded body enables exceptional alien cross talk results whilst ensuring that the product is robust and has a high quality finish. The Deca10 Keystone Jack is compatible with the Deca10 patch panel, with each individual keystone clipping into the panel continuing the shielding of the 10G system. The keystone jack is also compatible with the angled outlet from HellermannTyton providing end to end connectivity using either a wall box or floor box.
Technical Description
The Category 6A Termination Tool has a springed ratchet mechanism and a soft ergonomic grip, making all Category 6A terminations as quick and easy as possible.
Type
HT-KSJ08S-TT
Depth (D)
35.5

mm

Height (H)
22.74

mm

Length (L)
238.0

mm

Width (W)
15.5

mm
| | |
| --- | --- |
| Dimensions W x H x D | 15.5 mm x 22.74 mm x 35.5 mm |
| EAN / GTIN | 5022660993039 |