Cable clips for edges – the EdgeClip
Fasten cables and pipes to edges with no drilling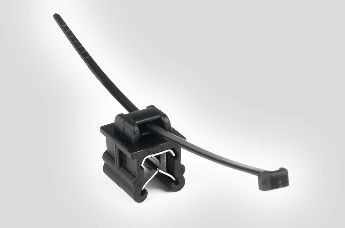 EdgeClip cable clips for edges are tiny cable tie mounts. These special plastic components are held in place by built-in spring steel clamps. The EdgeClip is a cable-fastening solution that enables the flexible routing of wires, cable harnesses, conduits and pipes in a variety of industrial applications, including the automotive sector. Cable clips for edges allow you to securely fasten cables:
without drilling
without welding anchor bolts
wherever it's not possible to use adhesives
These cable clips can easily be attached to the edge by hand. No additional tools are required for installation.
Product overview
How do you securely fix cables to panel edges without screws or adhesive?
EdgeClips are the ideal choice when it comes to fixing cables to edges – without tools and within seconds. A short introduction to the EdgeClip family, which by the way can save you a lot of working time, can be found here in this video:
2021 marks the 20th anniversary of the EdgeClip family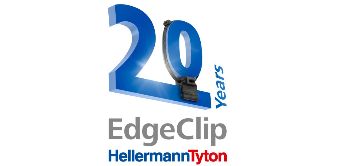 Whether solar, automotive or any other industry: For already 20 years, customers from a wide range of industries have been relying on the versatile EdgeClip product range.
Today, the practical clips for edge fastening are available in over 300 variants, made of more than 100 different material combinations.
The EdgeClip Mini – the smallest cable clip for edges on the market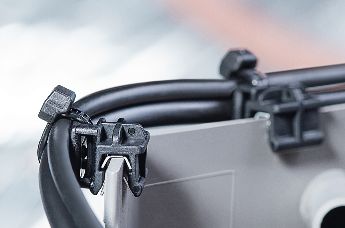 Constructors and fitters often face the following challenges:
How to fasten cable bundles with cable ties in extremely tight spaces?
What to do if it's not possible to drill a hole or weld a mount?
What to do if adhesive cable tie mounts are too large or the adhesive won't bond?
How to ensure firm grip on exceptionally narrow or flat edges – which are often only 0.7 mm-0.9 mm thick?

We have the right solution for you: The EdgeClip Mini – perfect for restricted spaces and narrow edges. The smallest EdgeClip model is specially tailored to the construction needs of our industrial customers.
Our smallest cable clip for edges is 30% smaller than other cable tie mounts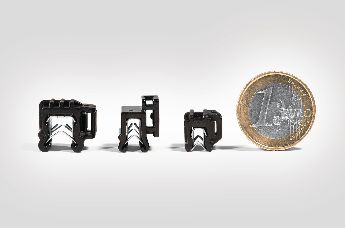 The small dimensions of the EdgeClip Mini help constructors when there is limited space available for cable routing.
This mini version of our cable clip for edges keeps everything securely fastened, despite using 30% less material than the larger cable clips that we manufacture for thicker edges.
Thanks to its compact housing, the EdgeClip Mini is the only cable clip on the market that is suitable for securely fastening cables to very low square and double seam edges or narrow angled seam edges with thicknesses between 0.5 mm and 2.5 mm.
The EdgeClip plastic housing is made of high-impact-modified and heat-stabilised nylon, which is also known as polyamide PA66HIRHS.
How can this cable clip for edges withstand up to 5 kg of pull-off force?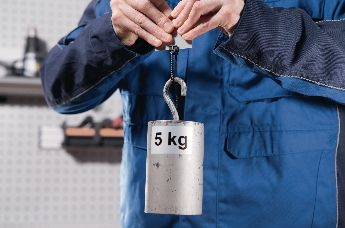 We have modified the design of the spring steel clamp inside the EdgeClip Mini to ensure that it has even more staying power than our industrial customers require.
The built-in, chrome-free, galvanised spring steel clamp digs itself firmly into softer materials. The barb effect is so strong that it isn't even easy to prise away this tiny cable clip with pliers.
The barb effect of the spring steel clamps in all other HellermannTyton EdgeClip products have been designed for various surfaces and hardness levels.
Depending on requirements, we recommend that an engineer review the application of the EdgeClip model concerned.

Take a look at our video to see how you can remove an EdgeClip in a controlled manner.
If the base material of the edge (sheet metal or plastic) exhibits a hardness of less than 410 HV 10, the offset and interlocking claws of the EdgeClip Mini can withstand a pull-off force of 5 kg.
When compared with larger models, the design of the EdgeClip Mini facilitates the optimum positioning of the cable bundle on the edge, as well as the right position of the cable tie head in relation to the bundle for the application concerned.
Selecting the right EdgeClip depends on edge thickness and edge height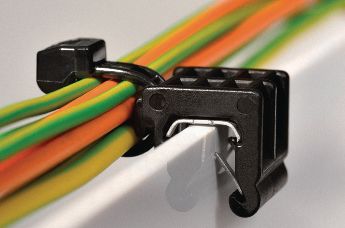 There is no such thing as a universal cable clip for edges, as the applications in different industries can vary wildly. There are considerable variations in the edge dimensions and the materials used to make the edges.
We offer EdgeClips for five edge thicknesses:
0.5 mm to 2.5 mm
1.0 mm to 3.0 mm
1.5 mm to 4.0 mm
3.0 mm to 6.0 mm
6.0 mm to 8.0 mm
Our most frequent enquiries relate to the fastening of cables on sheet metal edges of between 0.7 mm and 0.9 mm – for which our EdgeClip Mini is the first choice.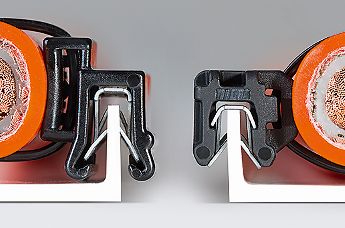 Our EdgeClip Mini (EC0.5-2.5SP-SV) is also recommended for applications in which the edge measures just 6.0 mm in height.
The two-part EdgeClip EC5 cable tie is the best choice when it comes to fastening cables to edges with a minimum height of 9.0 mm.
Cable clips for edges and different routing directions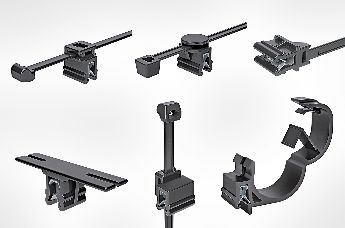 HellermannTyton developed the EdgeClip to enable engineers to flexibly create fixed anchor points for cable ties on any part of component edges.
That's why we offer a range of EdgeClips for cable tie insertion in different directions.
This makes it possible to route vertically and horizontally along edges or across or over edges.
How can the component edge be used for secure fastening?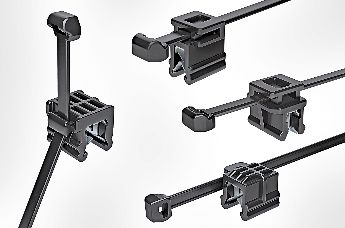 The geometry of the edge concerned often indicates whether cables can be routed over, or alongside, the component edge.
You can choose between four different EdgeClip alignments:
Over the edge, parallel to the direction of the edge
Transverse over the edge, 90° to the direction of the edge
Parallel alongside the edge
Vertical and lateral, 90° to the direction of the edge
Wide variety of EdgeClips
HellermannTyton developed the first cable clips for edges in 2001. These EdgeClips come pre-assembled with a cable tie.
Single- and two-part cable clips for edges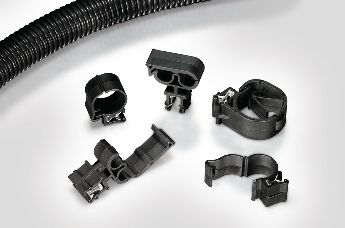 Regardless of the size of the two-part EdgeClip, it is always a reliable anchor point on edges for bundling cables, pipes or conduits with cable ties.
Our customers usually order our cable clips for edges pre-assembled with a cable tie – ideally our T-Series cable ties with outside serration.
We now offer dozens of different two-part EdgeClip attachment sets.
We also produce single-part EdgeClip models: whether with the cable tie already attached to the clip housing, with a bundling clip or with closable mounts for pipes or conduits of different diameters.
EdgeClip with TwistLock
EdgeClips are not only very versatile, but also easy to use. A good example of this is the EdgeClip with TwistLock. Watch this short video to see how it works:
The right solution for every scenario
EdgeClips are ideal for the secure fastening of wire harnesses in a host of OEM applications.
HellermannTyton developed the first EdgeClips for the automotive industry. In order to prevent the abrasion of fog lamp cables, the search began for a cable clip that enabled cable routing behind the bumper.
An existing edge constituted the ideal attachment point, with no costly series production modifications required. The EdgeClips simply needed to be pre-mounted in the right places by the cable harness manufacturer.
EdgeClips are also installed in white goods. As they can be easily attached to edges by hand, they are predestined for piecework on production lines.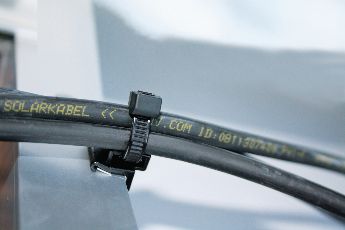 Completely at home in the elements, the EdgeClip also holds the cables on solar installations firmly in place. The two-part clip is resistant to UV radiation, temperature fluctuations and weather-induced chemical reactions.
It stops PV cables from sagging and being damaged, thus preventing short circuits.
To learn more about EdgeClips and further topics around the right cable management on solar plants, click here:
Build faster and more effectively with 3D EdgeClip product data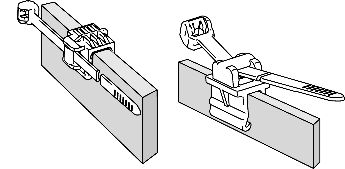 In conjunction with software manufacturer CADENAS, HellermannTyton makes the specifications of selected EdgeClip products available in 3D electronic formats. Constructors can import the specifications of their desired items by downloading them into their CAD system free of charge in all standard CAD formats or by having them sent by email.
The PDF data sheet supplies information about precise product dimensions, material specifications, product characteristics and details of what is included in the scope of delivery.
FAQ – Frequently Asked Questions
How to choose the right type of cable clip for edges?
There are rarely EdgeClips that suit all areas of use, as the requirements and needs are so different from industry to industry. Despite standardised panel thicknesses, we know from experience that each EdgeClip will perform differently in each application. This is generally because the edge parameters and the relative weight of the cable bundles or hoses to be held in place vary significantly. The surface material used, the edge thickness, bundle direction, cable fastening option and material play a role. Therefore, we recommend considering the following when choosing the right cable clip for edge applications:
1. Edge thickness and height
How thick and high is the edge you want to route cables on? Edge dimensions vary considerably. We cover a staggered range of sizes accordingly. In some scenarios, the available edge can also be limited in physical height. Or the bundle diameter is greater than the edge height. EdgeClip mini, for example, is approx. 6.0 mm high, while many of our edge clips are at least 9.0 mm high.

2. The geometry of the edge
The direction of the edge usually indicates in which direction the cables can be routed, whether vertically/horizontally, on or next to the edge. EdgeClip geometries are available for four different routing options:
Above the edge, parallel to the direction of the edge
Right angle across the edge, 90° to the direction of the edge
Parallel along the edge
Vertically horizontally, 90° to the direction of the edge
We also offer a version where the cable tie saddle can rotate 90°. The most common EdgeClips are two-piece parts, pre-assembled with a cable tie. HellermannTyton also manufactures one-piece parts with an integrated tie head and strap. If you can think of a variant on that theme, we have probably already manufactured it!

3. Application areas
The conditions that a product must fulfil depend on the area of application. In the solar industry for example, it is important that cable fasteners are UV-resistant and can withstand harsh conditions. In the white goods industry it is essential that fasteners are space-saving, durable and resist vibration. Above all, Edge Clips are an excellent choice in applications where holes cannot be drilled and other fastening options such as adhesive are undesirable. The statics are not affected and the product can be attached easily by pressing it onto the edge by hand.
Will EdgeClips react with the surface material?
The metal clamps in our EdgeClips are generally made from zinc galvanised spring steel. This is fine on most plastics. But on panel edges made of metal, undesirable chemical reactions are a possibility you need to account for. Corrosion at the point of contact may result because the galvanised steel claws of the EdgeClip penetrate through protective surface coatings, thus exposing the substrate. Negative corrosion potential is dependent on temperature, humidity and other natural or man-made environmental factors such as salt, ultraviolet light, gases, oils or cleaning agents. The plastic housing of the EdgeClip doesn't pose any problems to the edge substrate. We usually manufacture it from high impact modified, heat stabilised Polyamide 6.6 (PA66HIRHS). This has an operating temperature range of 40 C to +105 C. We can adjust the EdgeClip properties to suit specific applications. Please contact us with any questions about atypical material combinations.
What is an EdgeClip?
EdgeClips are tiny cable fasteners applied to structural edges as a permanent mount for cable ties. They can be easily pushed onto panel edges by hand, without the need for tools. They are ideal for securely fastening cables, hoses and harnesses wherever drilling holes or using adhesive mounts is not an option. The holding force of the integrated spring-steel clamp is sufficient for even the heaviest cable bundles. A variety of geometries ensures a suitable fit for every cable routing scenario. Cables can be routed parallel to, across or along the edge.
How does an EdgeClip work?
Depending on the dimension of the EdgeClip, we stamp two or three pairs of opposing angled claws into the u shaped spring steel clips. Under tension (reverse, lateral or axial movement under load), these claws dig into the softer material and counteract movement of the clip in this direction. We refer to this as positive locking. The best positive locking results are achieved when the angle of the claws is not overly reduced by the breadth of the edge that it is pushed onto. For the ideal fit, we recommend there is a gap between the clip and the side walls of the edge. For example, an EdgeClip in the range 1.0 - 3.0 mm will ideally fit on an edge that is 2 mm thick. If there's no gap, you need a larger EdgeClip.
What surface materials can EdgeClips be applied on?
Generally, the softer the edge material, the greater the EdgeClip claws can dig into it. Conversely, if the edge material surface is similarly hard, or harder than the steel claws, they won't be able to dig into the surface. Common engineering thermoplastics such as polyoxymethylene (POM) or polyvinyl chloride (PVC) present no hardness problems in EdgeClip applications. Aluminium is usually successful. But especially with metals like steel, we certainly recommend verification of the relative hardness of the specified materials first. The Vickers Hardness Test (HV) is ideal for determining this. Our EdgeClips can positively lock on edge materials if the hardness is less than 410HV10. Layers of surface coating, or oily films, will also have an impact on the degree of positive locking that can be achieved In your application.
How do I apply EdgeClips and what tools are required?
No tools are required to install EdgeClips. You can push them onto edges by hand. Hold the EdgeClip above the edge at its desired final position and then push it onto the edge with light, even pressure. Once fastened, the EdgeClip remains in that position. You will not be able to slide it sideways elsewhere along the edge.

Are EdgeClips available in individual sizes, colours, materials and properties?
HellermannTyton has a lot of experience adapting EdgeClip designs, dimensions and properties to suit specialised individual requirements. The majority of EdgeClips are made with a black polyamide housing and sometimes brown or grey. We can produce in other colours on request.
Can I de-install and reuse EdgeClips?
We do not recommend that you reuse an EdgeClip that has been removed. Also be aware, that the surface of the edge will be damaged if you remove an EdgeClip. Removal by hand is not possible. The steel claws dig into the softer material of the edge and hold it firmly in place. The EdgeClip can only easily be removed with an EdgeClip removal tool. It works for all EdgeClip sizes from 1.5 mm to 6.0 mm. Contact us if you are interested in this special tool.
What are the push-on and pull-off forces of EdgeClips?
The approximate forces we talk about in relation to EdgeClips range between 50 N - 150 N (approx. 5 - 15 kg). We don't publish specific mean push on and pull off forces for EdgeClips because the potential combinations of variables are so extensive. We can advise you based on experience and support you with samples for your individual tests.
Factors that determine whether clamping force is sufficient include:
Edge material hardness
Edge material thickness
Finishes, coatings or grime
Wide temperature variation
Torsion in the wiring harness
Vibration