Innovative cable jointing for reliable cable connections
RELICON cable joint sets equip you to reliably meet any cable jointing challenge
RELICON cable joints are suitable for universal application as branch or straight through joints in low-voltage electrical installations. They are the cable jointing product of choice of energy supply companies, industry and the electrical trade for permanently connecting cables buried in the ground.
Cable jointing is a necessary part of daily life for electrical engineers, and high expectations are placed on the end result. A cable joint protects cables against moisture ingress, dust and penetration by foreign objects.
RELICON cable joints are longitudinally and laterally waterproof. The sets are available in various sizes as straight through i-Line joints and also as Y-Line and T-Line branch joints or PA parallel branch joints. They can be used for cable jointing underground, under water or in installation ducts, for example for connecting buildings to the mains supply.
RELICON cable joints are resistant to environmental influences and are non-toxic. HellermanTyton offers polyurethane and epoxy-based resins (eg PUR 33 cast resin and EP 64 epoxy resin) in its product range. These are suitable for the majority of cable jointing requirements in low voltage systems.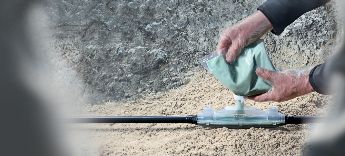 Safe and reliable processing of cast resin for cable jointing with our SF technology.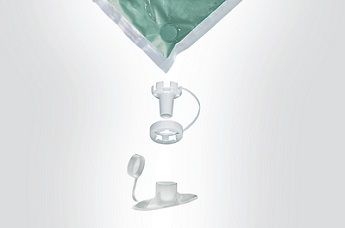 Our optimised "Safe Filling" (SF) system ensures that, the installer is protected from coming into contact with the cast resin components whilst they are mixed and the joint sleeve is filled. This means that working with RELICON resin cable joint kits is always a safe, clean and efficient process.
The transparent cast resin bag is connected to the moulding sleeve by means of a filling nozzle and an adapter so that the cast resin mixture can be poured easily. The excellent flow properties of our cast resins make pouring simple and the transparent material used for the cable sleeve guarantees optimum visual control of the filling process at all times.
A ring in the cast resin pouch makes it easy to position and connect the special SF filling nozzle. After it is securely attached to the mixture bag with an adapter ring, the nozzle can be inserted securely into the opening of the upper joint Shell.

Step 1: Remove the transparent two-chamber pouch from the aluminium-lined bag.
Step 2: Open the cold seal between the resin and hardener component by squeezing.
Step 3: Mix the two components thoroughly by kneading the pouch.
Step 4: The patented colour change indicates when the components are homogenously mixed.
Step 5: Press the nozzle firmly onto the adapter ring.
Step 6: The nozzle fits securely in the top of the shell and makes bubble-free pouring of the cast resin possible.
The right product for your cable jointing application
RELICON cast resin expertise for reliable cable jointing in low and medium voltage networks: