Wiring ducts: Optimum protection for cables and installers
Wiring ducts system solutions keep everything in place
With the wiring ducts system solution HelaDuct the quality-conscious panel builder:
can manage his cables more securely and effectively
can build a panel that is more orderly and professional-looking, reliable and easier to maintain for the panel-builder's customer.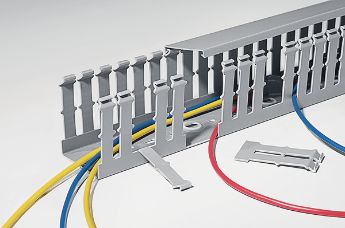 Our wiring ducts benefits at a glance:
HelaDuct is a system solution featuring innovative, securely mounted wire retainers for a lasting and tidy result inside the panel.
The smooth, burr-free edges prevent damage to the wire insulation and injuries to fingers and hands.
Burr-free removal of fingers using perforated break points. Wall segments can also be removed burr-free using perforated break points.
The cover stays firmly in place, even under challenging conditions such as vertical installation and strong vibration, for example on a ship, on a train or in a wind farm.
Product overview
Learn how to organize and secure your wire here: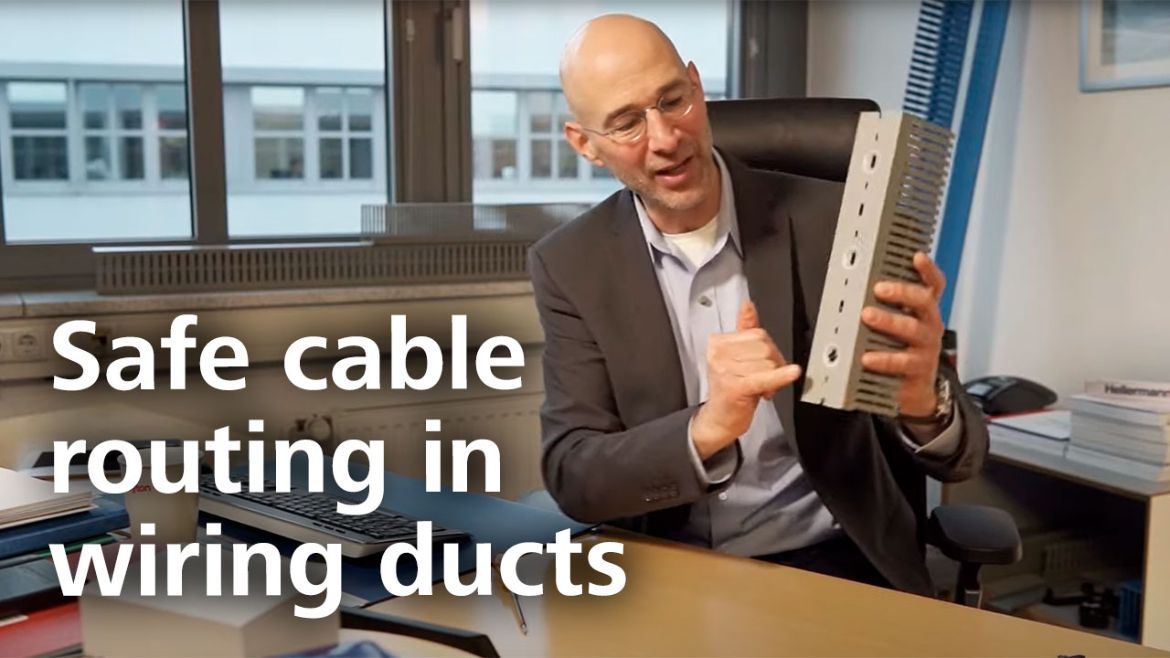 Learn more about optimum protection for cables and installers here: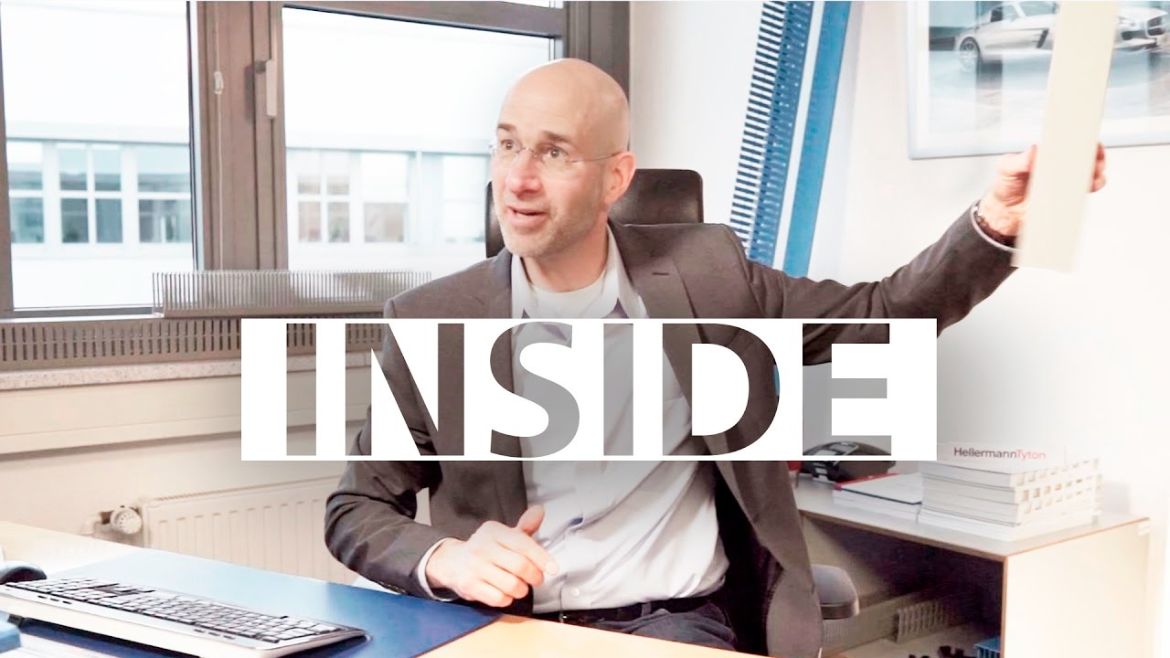 Our wiring duct highlights for your panel
The wiring ducts range HelaDuct covers a wide variety of widths (15 -150 mm) and heights (up to 100 mm).
All HelaDuct products feature a base perforation according to DIN EN 50085.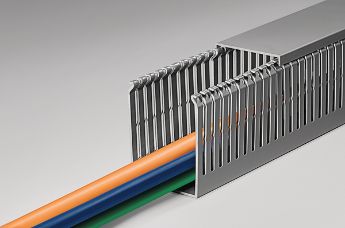 PVC wiring ducts are available
They are used in control panels, switching systems and especially electronic control systems.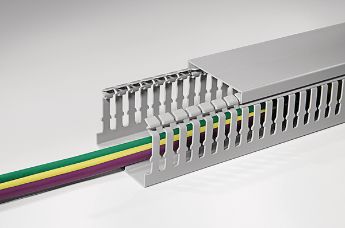 HelaDuct HTWD-HF wiring ducts are used in control panels and switching systems where there are high demands on personal or material safety in case of fire, such as in public transport, tunnels, data-processing centers or public buildings.
Main benefits:
Excellent fire-safety characteristics
Narrow slots suitable for small-diameter wires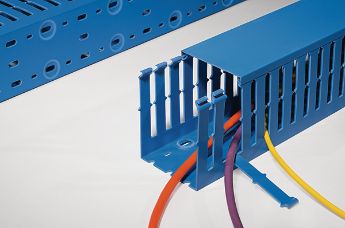 The HelaDuct wiring duct range features the blue ducts HTWD-PWB which are used to identify intrinsically safe wiring, for instance in chemical plants or anywhere where there are explosive environments.
HelaDuct wire retainers and other accessories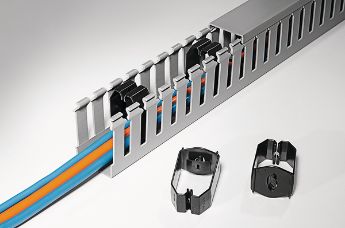 HelaDuct HTWD-BWR wire retainers are quick and easy to mount and hold wires firmly during wiring, especially where the ducts are installed vertically on in the ceiling.
They offer significantly higher secure and robust fixing than conventional solutions with adhesives because they are mechanically affixed to the duct.
Fixing the retainers in the duct is simple. HTWD-BWR retainers are locked securely into place in the duct with light press and twist of a screwdriver.

Main benefits:
Mechanical anchor is exceptionally secure and does not weaken in warm environments
Anchor of retainer remains inside raised mounting point and does not protrude below surface of duct base
Reduces strain on duct fingers especially at corners and eliminates bulging against sidewall
Fits snuggly in duct for minimal loss of installation space
Available for all duct sizes of width and height 40 mm and larger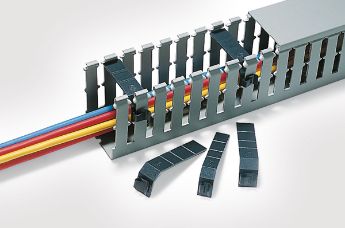 HTWD-NFWR and HTWD-WFWR wire retainers are easily inserted onto fingers and hold wires securely into place when cover is removed.
Main benefits:
Prevents wires from falling out even when vertically routed
One retainer for all duct widths: the retainer can be snapped to desired width perforated break-off points
Vertical position on fingers can be freely adjusted
Does not block insertion of wirings into Slots
Fixing the retainers in the duct is simple. HTWD-NFWR and HTWD-WFWR retainers are simply clicked into place on a duct finger.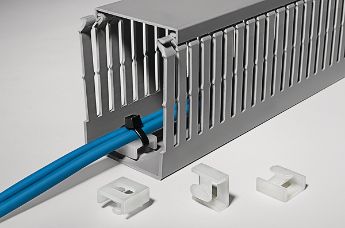 HelaDuct HTWD-CTH is used to anchor a cable tie securely to the base of a duct. The HTWD-TL is used to fix a HTWD-RB rail mounting block to duct in order to mount duct to DIN rails.
Main benefits:
Holds all components firmly in place
Cable tie easily laced through HTWD-CTH
Anchor of mount remains inside raised mounting point and does not protrude below surface of duct base
Click HERE for an overview of all our products for quality-conscious panel builders:
Don't struggle over every cubic centimetre.
Save yourself space and time with our products.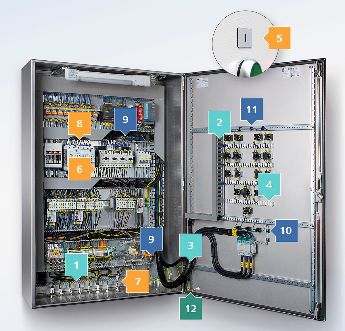 Cable protection
1. HelaDuct HTWD-PN: Wiring ducts for cables with small diameters. Remove the fins safely and easily using the perforated breakage points. Particularly narrow ribs and Slots
2. HelaDuct HTWD-PW: Wiring ducts for cables with larger diameters.
3. Helawrap HWPP: The ideal solution for bundling and protecting cables and wires.
4. HelaDuct Flex: Flexible cable harnesses for clarity in line management, even at sharp angels.

Labelling Systems
5. Panel labels: Low-cost alternative to engraved plastic signs. No additional sign holder necessary and easy to print on site.
6. WIC: Fast and easy labelling. Also suitable for retrofitting.
7. Helatag 1209: Resistant labelling with excellent protection against humidity and mechanical abrasion thanks to protective laminate.
8. IT cable ties: For easily combined labelling and bundling.

Cable tie and fixing Systems
9. Q series: Cable tie system with open tie head offers up to 25 % faster connection with its ease of use.
10. SolidTack: Mount with very high adhesive strength – even on low surface energy materials.
11. T50R0SFT6 cable ties: Teeth are placed on the outside, protecting the bundled product, christmas tree fastener enables variable attachment (sheet thickness).

Insulating products
12. HIS-3: For effective insulation and colour-coding.
Frequently Asked Questions
What is a wiring duct?
Wiring ducts – also known as wire ducts or wire trunking – are rectangular channels designed to protect, organize, and route electrical wires, cables, and hoses. Naming varies among industries and manufacturers. The term "wiring" is generally used for channels that are open on the sides and that are primarily used in installations areas where the wires are finally connected to their destination systems for example inside electrical enclosures.
Wiring ducts enable routing vertically, horizontally or upside down. In accordance with basic standards of electrical installation, routing will always be in parallel or orthogonally. Wiring ducts play a crucial role in managing and safeguarding wiring systems in panel building with high demands on personnel and material safety.
What is the difference between wiring ducts and installation ducts?
Installation ducts are closed channels intended to route cables over long distances. Wiring ducts have (sometimes expandable) openings and are optimized for the individual routing and final wiring process at the destination. Therefore a common application for wiring ducts is switch cabinets.
What are the benefits of using wiring ducts?
Besides protecting, managing, and organising cables, wiring ducts offer several other advantages:
Improved safety: Wiring ducts provide a protective barrier, reducing the risk of accidents caused by exposed wires or accidental contact with electrical components.
Easy maintenance: Accessing and maintaining cables within wiring ducts is simple and efficient, saving time and effort during troubleshooting or upgrades.
Reduction in interference: The cable separation enabled by wiring ducts reduces the potential of electromagnetic interference (EMI).
What are the most important quality features of wiring ducts?
The quality of cable channels can be assessed based on a range of hard and soft factors. Among the hard facts are standardized dimensions and perforations, ensuring consistent compatibility. Flame resistance and halogen-free properties are crucial for safety in case of fire. Soft factors like a smooth, burr-free surface help avoid injuries and cable damage. An effective fastening system and the electrical safety of the plastic are also important. The easy installation and secure attachment of the cover, flush with the bottom of the channel, as well as wire retainers at the same level, enhance user-friendliness.
How do I select the right wiring duct size for my project?
Choosing the right wiring duct size depends on the number and diameter of cables you need to accommodate. Measure the total cable bundle size and length required and select a wiring duct that can comfortably hold your cables while leaving some room for future expansion and ventilation. Usually, wiring ducts can be easily cut to the right length with a backsaw (fine-toothed recommended, e.g., hacksaw).
For final distribution on certain levels within the cabinet it is advised to use small cable ducts to optimize space-usage. A good product for this is the tubular, wrap-based HelaDuct flex.
Why do you use wiring ducts for panel construction?
For a panel builder, it is important to be able to construct panels that are clear and flexible. It can therefore be a good idea to combine several types of cable protection and cable labelling. With our cable ducts, the quality-conscious panel builder can:
Install cables safely and efficiently
Optimize space with a compact arrangement of cables and ensure efficient use
Easily access and maintain the electrical connections within the panel
What are "DIN" Wiring Ducts?
DIN wiring duct refers to the specified external dimensions of height and width. These dimensions are based on the DIN 43659 standard, which has since been withdrawn but is still widely used in the industry. DIN sizes include size increments like 20, 25, 75/2, 50, 75, 100, 125 for width and height.
Metric sizes are a different system than DIN. They include more height-width combinations. Both metric and DIN channels use metric – meter-based – units of measurement as opposed to imperial units of measurement.
DIN can also refer to the standardisation of the bottom perforation of the duct. The perforation is used when mounting the duct to the cabinet. The position of the oblong holes used to be specified in the DIN  43659 standard. The standardization is still present e.g., in the current standard DIN EN 50085-2-3 as an example. When looking for a standard perforation according to DIN, DIN EN 50085-2-3 should be used.