Rail industry: put your trust in a global partner.
We supply innovative solutions. Fully certified
Always on the right track:
the rail industry's supplier of choice
If you were looking for a way to describe our expertise in the rail industry, you could always tell the fairy tale of The Hare and the Hedgehog. We're already there! Firstly, because we really are the first-choice supplier thanks to our IRIS certification. We fulfil the International Railway Industry Standard (IRIS) and offer everything you need in terms of cable management to make your operations both safe and profitable. You also benefit directly from our innovative strength, as we boast a constant stream of new developments for the rail industry.

With HellermannTyton, you have a partner on your side who offers the full package: experience, quality and the reliability of an international brand.

HellermannTyton INSIDE
Take a sneak peek
Look behind the scenes at HellermannTyton and find out what makes us tick. Our employees, who think of nothing but products and how to maximise functionality, have their say. Our cameraman decided to find out more.

Specially developed solutions for the rail industry:
certified and built to last
It goes without saying that we're always happy to reinvent the wheel. The competencies of our development centres, which are positioned in strategically favourable locations, are constantly being pooled in new ways to develop the cable management solutions of tomorrow's rail industry – today. We have been taking this approach for more than 20 years, with cooperation between partners a decisive factor. We are only able to meet your needs to perfection thanks to our in-depth specialist knowledge. You benefit from safety and efficiency, because with HellermannTyton you can rely on certified products and services that are based on knowledge of your industry.
Cable identification: TLFX DS heatshrink markers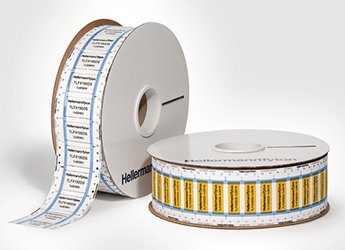 These cable markers come in a handy ladder style and have been specially developed for the rail industry. They meet the highest standards in terms of low flammability, have all the necessary certifications and can be quickly produced as permanent cable marking solutions on our thermal transfer printers.
Cable identification: Diesel resistant and halogen free heat shrink marker TLFD DS

The diesel resistant and halogen free TLFD DS heat shrink marker fulfils the requirements of the railway standards EN 45545-2:2013 (R22/R23, Hazard-Level 3) and EN 50343:2014 Annex H. The special composition of the polyolefin material enables TLFD DS to prevent the spread of fire and minimize the risk to people in the event of a fire, such as smoke, lack of oxygen or the generation of toxic gases.

Perfect for stringent fire protection requirements: the TIPTAG marking system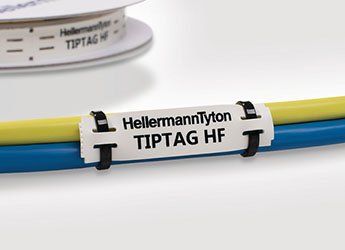 The cable markers in the TIPTAG range are ideal for areas with particularly stringent fire protection requirements. They meet all the demands of the rail industry, are halogen-free and are particularly popular on account of their flexible mechanical properties.

For double-sided printing: the TrakMark DS thermal transfer printer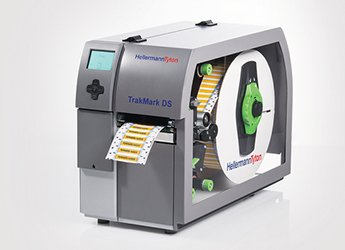 This thermal transfer printer is just the ticket when you need to print large quantities of heat-shrinkable tubes quickly. The TrakMark DS is capable of speeds of up to 125 millimetres per second – an efficient rate that stops printing from being a race against the clock.
Versatile mounting: Ratchet P-Clamp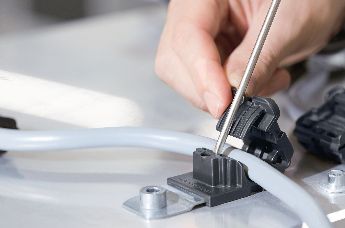 The Ratchet P-Clamp is a cable clamp with a specially developed adjustable ratchet mechanism. It is suitable for fastening cables, hoses and pipes in the floor and ceiling of rail vehicles. In contrast to conventional clamps, the Ratchet P-Clamp can be pre-assembled before it is closed. It can also be re-opened without having to dismantle everything. Available in four flexible sizes covering all common diameters, the part diversity of metal and plastic p-clamps with specific diameters in inventories can be reduced.

Cable protection for the rail industry: HTWD-HF wiring duct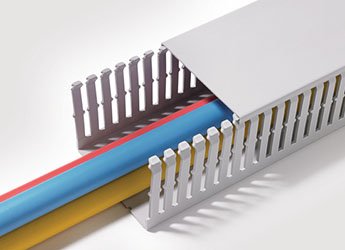 Halogen-free and boasting certification for enhanced fire protection, this cable duct is made from a unique polymer blend and offers everything you need for space-saving and secure cable protection. Ideal for areas with large numbers of people or high-value equipment.

Wherever you find friction and impact: Helagaine Twist-In-FR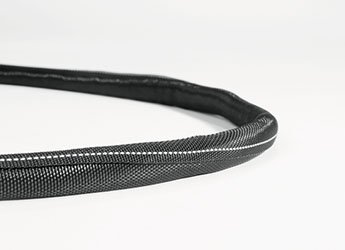 Helagaine Twist-In-FR is ultra-fast to process and helps you raise your installation and mainentance efficiency. And its excellent fire protection properties make this self-closing protective braided sleeving essential whenever safety is the top priority in the rail industry.

For tough conditions and outstanding fire protection: the Helawrap HWPAV0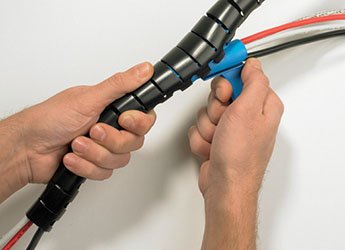 Bundling and protecting cables in a single step is easily accomplished with Helawrap HWPAV0. Excellent abrasion protection and outstanding fire protection properties are the key factors when it comes to certified use in rail vehicles.Suggested addition: Helawrap HWPAV0 gets you to your desitination fast and safe.

Speedy workflows for greater efficiency: with the EVO9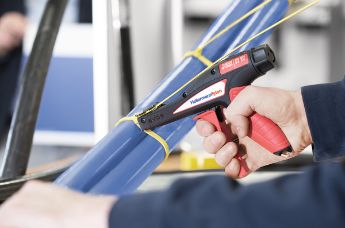 Nothing moves forward without evolution. For us, holistic cable management means ensuring both speedy and reliable processing. It was not only a matter of time before we designed the patented EVO7 tool for fitting cable ties. We specifically enhanced it, the result being that the EVO9 suggested addition: for heavy-duty plastic cable ties lets you complete your workflows even more quickly.
Our absolute forte: cable ties for the rail industry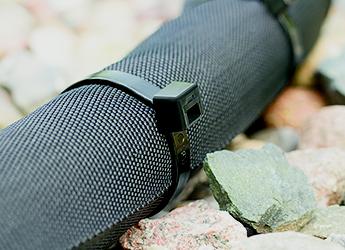 We specialise in the development of industry-specific cable management solutions. We have been working for some 20 years on behalf of the rail industry – an area where our innovations keep on setting new standards. Take our T-Series cable ties, for example, which are serrated on the inside for reliable grip on the bundle. The OS-Series, on the other hand, is serrated on the outside, so that sensitive cabling comes into contact with a perfectly smooth surface. If there is a need for exceptional holding forces, or reliably secure connections – such as on folding bellows – we recommend our KR-Series, a patented system with a unique head.

Perfect for the rail industry:
as confirmed by internationally recognised certification
Just under two decades ago, we started making secure cable management solutions for the rail industry. First and foremost, this unique industry is interdisciplinary and constantly changing due to market conditions and technical requirements. Over the years, one trend has been particularly noticeable: certification such as that in line with DIN EN 45545 has become increasingly important, as have exceptionally stringent fire protection requirements.

As a company, we therefore decided to get one step ahead. As we have our finger on the pulse and consult with legislators and institutes all around the world, we often meet the standards for the certificate you need before the legislation has even been passed. Across the globe, our experts are ready to help your company. We're at home in 38 countries and speak your language.

We can even assist you in the planning phase for new rail vehicles. That is HellermannTyton to a T. No less characteristic than our wide-ranging service is the added value we provide by being a truly reliable partner.

Thinking and planning ahead
Two of our most indispensable characteristics are our ability to spot trends and to develop innovations that enable reliable planning. There didn't use to be any certification for cable ties. We realised that things change, however, and worked extremely closely with the established institutes. Therefore, we were not surprised when certification became a requirement. Quite the opposite. We had already met the standards before the legislation was ratified.

This brings us neatly back to the story of The Hare and the Hedgehog. We're already there!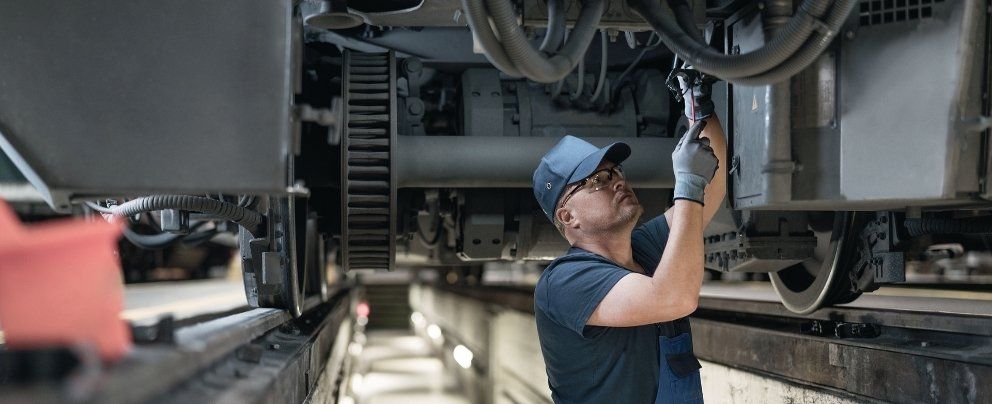 In project planning, the trend is to reduce costs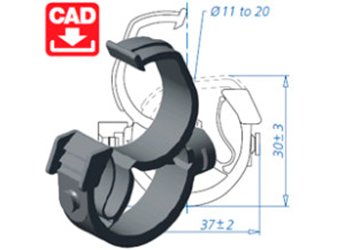 In project planning, the trend is to reduce costs. To enable you to plan even more reliably, we work with CADENAS. When looking for the perfect solution that doesn't have to be developed first, you can use 3D technology to check whether finished products are already compatible with your system.
Innovation is the result of targeted evolution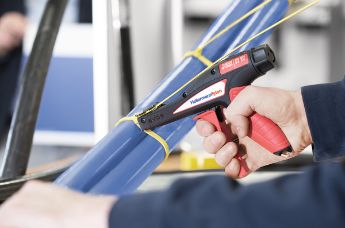 Thanks to systematic refinement of the EVO7 processing tool, the EVO9 raises the bar in terms of effectiveness and safety.
Functionality based on quality.
Marketability based on certification
In the rail industry, stringent safety legislation is decisive in terms of marketability. International certification is key in this regard. The IRIS (International Railway Industry Standard) is already firmly enshrined in the procurement guidelines of HellermannTyton. As a long-standing manufacturer for the rail industry, we meet all requirements in this area and tailor our services to the needs of railway suppliers. In particular, the harmonious interplay between project management, configuration management and obsolescence management boosts the safety and efficiency of your operations.

Furthermore, many HellermannTyton cable ties satisfy the requirements of DIN EN 45545. This sets out the fire behaviour requirements of materials and components in accordance with the guidelines of the International Union of Railways (UIC). The following HellermannTyton products, which are regularly used in the rail industry, have already successfully achieved classification as per this standard:

- T-Series PA66W, T-Series PA66V0
- OS-Series PA66W, OS-Series PA66V0
- KR-Series PA66W, KR-Series PA66HS
Seeing the whole picture for your business success
HellermannTyton thinks and acts holistically for your industry. Whether providing your staff with on-site training in new systems, or obtaining certification for the latest innovations, we regard ourselves as your ideal partner. See for yourself.

Downloads
First class all the way! Our products don't just meet minimum rail industry requirements. They exceed them.
Find out more about our rail products in our brochure - from rolling stock to infrastructure.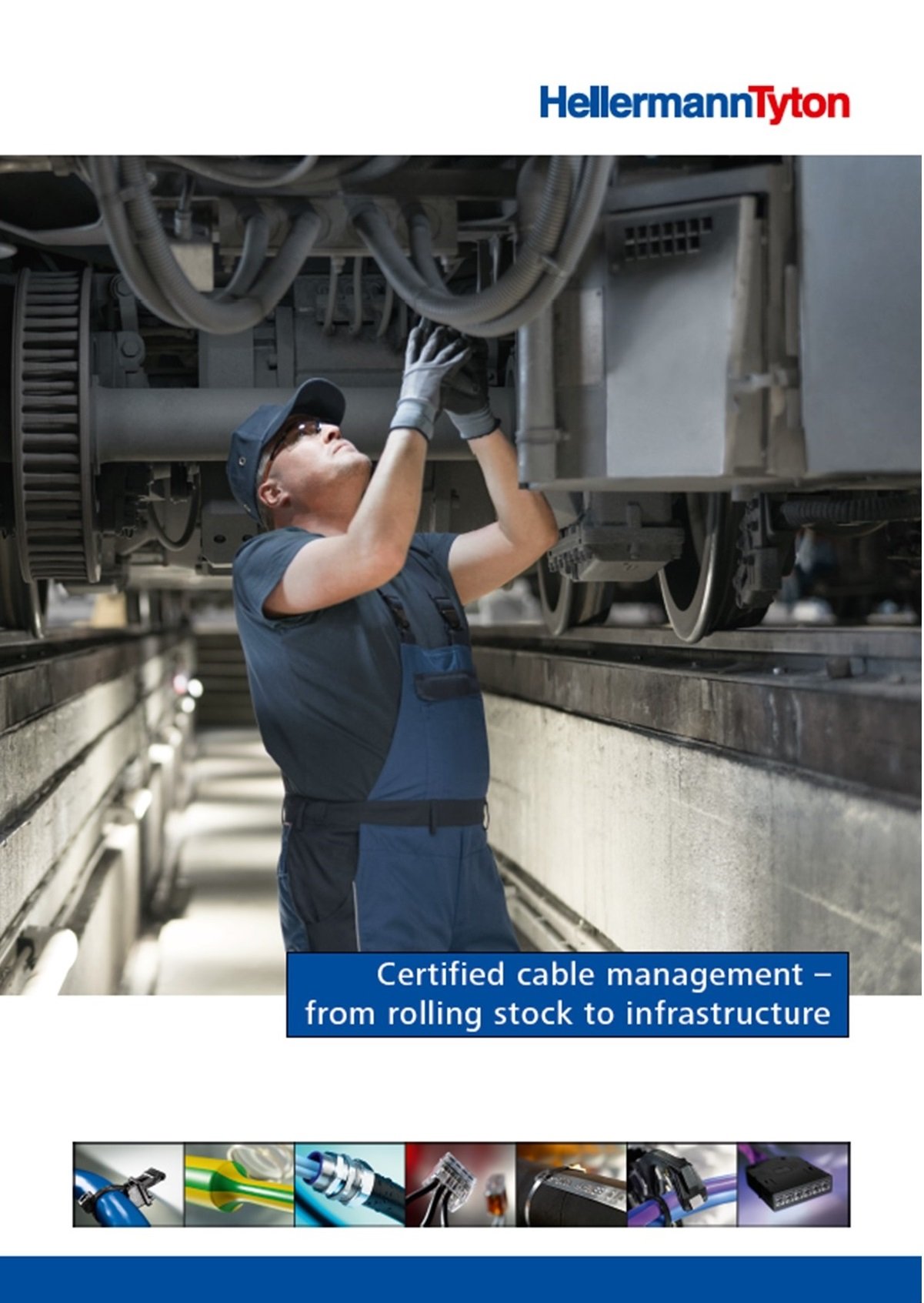 Global expertise: Find your local contact here
If you have any questions on specific solutions or would just like to receive more information, we are happy to help – with all our experience and with technical know-how:
Europe and France |Paul Cocheril
PCocheril@HellermannTyton.fr
+33 6 71 30 14 94
Austria |Andreas Hochfelsner
Andreas.Hochfelsner@HellermannTyton.at
+43 12 59 99 55 0
Belgium and Netherlands |Cédric Bauwens
Cedric.Bauwens@HellermannTyton.be
Norway |Lasse Nybakk
Lasse.Nybakk@HellermannTyton.no
+47 90 05 89 39
Poland |Pawel Petykiewicz
Pawel.Petykiewicz@HellermannTyton.pl
+48 22 673 89 54
Russia |Dmitri Tovstopiat
Dmitri.Tovstopiat@HellermannTyton.ru
+7 812 386 00 09
Spain |Juan Lopez
Juan.Lopez@HellermannTyton.es
+34 91 66 12 835
Sweden |Björn Rilegård
Bjorn.Rilegard@HellermannTyton.se
+46 8 58089075
Turkey |Yavuz Ozdemir
Yavuz.Ozdemir@HellermannTyton.com.tr
+90 0216 687 03 40
Middle East |Shatadru Bhattacharya
SB@HellermannTyton.ae
+97 1556 145 453
South Africa |Lee Vermeulen
Lee.Vermeulen@Hellermann.co.za
+27 11 879 66 00
+31 33 460 06 90
CEE |Heinz Jenner
Heinz.Jenner@HellermannTyton.at
+43 12 59 99 55 0
Denmark |Jakob Degn
Jakob.Degn@HellermannTyton.dk
+45 20 84 91 92
Finland | Harri Vesala
Harri.Vesala@HellermannTyton.fi
+35 89 87 00 450
Germany |Frank Heinze
Frank.Heinze@HellermannTyton.de
+49 38 43 82 281
Great Britain |Barry Fenton
Barry.Fenton@HellermannTyton.co.uk
+44 79 80 87 33 72
Italy |Marco Benato
Marco.Benato@HellermannTyton.it
+39 (0) 49 76 78 70
Italy |