HelaGuard cable protection with metallic and non-metallic flexible conduits and fittings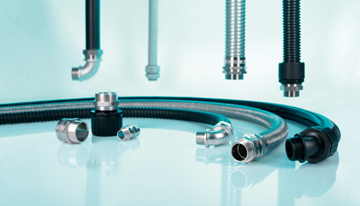 The industrial demands placed on cable protection solutions are increasing all the time. When it comes to choosing the right solution, the key issues are the system's ability to provide lasting and reliable protection against mechanical stress, chemical influences and the ingress of water and dust, often under extreme conditions. With HelaGuard, HellermannTyton offers an extensive range of flexible conduits and fittings that can address customers' diverse requirements.
The HelaGuard series offers an impressive portfolio of flexible conduits and fittings
HelaGuard offers a remarkably broad selection of flexible conduits and fittings of various materials, designs and diameters to satisfy virtually all requirements. The HelaGuard range is noted for the highest tensile strength and the very tight IP seal of its fittings.
HelaGuard flexible plastic conduits
Each and every HelaGuard protective conduit made with polyamide 6 (PA6), flame retardant polyamide 6 (PA6-FR), polyamide 12 (PA12) and polypropylene (PP) delivers optimum cable protection for a wealth of applications. Users can always find the right conduit for their application. To simplify the process, HellermannTyton offers a practical overview of the different HelaGuard systems and features.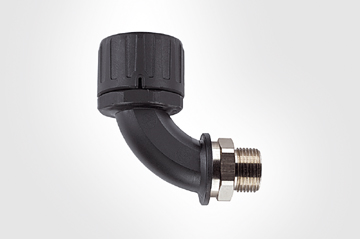 HelaGuard plastic fittings
Our technically sophisticated plastic fittings offer superior quality and safety. Quick and easy to mount, these one-piece fittings boast outstanding tensile strength. All HelaGuard HG fittings fulfil the requirements of IP Code IP 66. For exceptionally demanding requirements, the range also features HGL fittings that comply with IP66 to IP68, as well as IP69.
More information about IP Codes
HelaGuard flexible metallic conduits and fittings
HellermannTyton also offers robust and flexible steel conduits – for use under the very toughest conditions. They boast excellent compression and impact resistance combined with high tensile strength.
HelaGuard SSC protective conduit made of corrosion-resistant stainless steel (SS316)
Metallic conduits with plastic coating and metal fittings
HellermannTyton offers metal conduits with a host of plastic coating options for all manner of requirements and applications involving mechanical machinery and outdoor installations. The liquid-proof conduits with smooth plastic coating and fittings with IP68 and IP69 rating are ideal for outdoor use. What's more, steel conduits with metal braids are perfectly suited to guarding against abrasion, hot swarf and electromagnetic interference.
Spiral-reinforced flexible PVC conduits and fittings
The highly flexible and sturdy PSR and PSRSC conduits have smooth inner walls, making the insertion of cables quick and easy. With their smooth outer walls, PSRSC conduits are extremely easy to clean, making them perfect for use in the food and beverage industry.

Plastic fittings Can be used with both the PSR and PSRSC conduits. In addition, brass and stainless steel fittings (SS316) that fulfil IP Codes IP66, IP67, IP68 and IP69 are available with the PSRSC conduits.

New: the HelaGuard PSRSC-FMCFFSS fittings are now available!
The HelaGuard PSRSC-FMCFFSS fitting has been specially developed for the food and beverage industry. The fitting's entire external surface is made from high-quality stainless steel (SS316). With their rounded edges and smooth surface, the liquid-tight fittings trap no bacteria or dirt, make thorough cleaning easy and fulfil the criteria of European standard DIN EN 1672 "Hygiene requirements for food processing machinery in Europe." The PSRSC-FMCFFSS are used with the PSRSC conduits and fulfil IP66, IP67, 68IP and IP69.
HelaGuard flexible conduits and fittings for any application – developed to meet the needs of your industry
Our many years of experience in meeting the requirements of customers in myriad industries play a key part in the development of our products. As a result, HelaGuard flexible conduits and fittings meet the special requirements of industries such as machine building, train manufacturing, railway infrastructure shipbuilding, offshore industry, mining, the chemicals industry and many other sectors.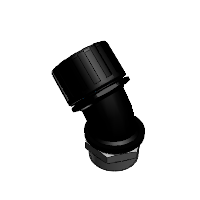 HelaGuard – now in 2D and 3D
Speed up your development work with 3D CAD models of all HelaGuard products. Working with CADENAS, HellermannTyton has made it extremely easy for engineers to find the right solution for their construction project and import 3D and 2D CAD models (currently 27 formats in 2D and 35 formats in 3D) of thousands of products straight into their construction plans. Access 3D previews of the flexible conduits and fittings of the HelaGuard range straight from the relevant product page. Or complete the short registration process of the CADENAS-PART community to enjoy free use of the CAD models of HelaGuard products in all common file formats.