Cable Tie Tensioning Tool: EVO9 Family
The EVO9 family for manual tensioning is based on the same evolutionary technology as the original EVO7 cable tie tensioning tool but features enhanced components and a wider nose to accommodate heavy duty and wide strap cable ties.

The EVO9 has redefined the cable tie application tool, by combining durability, precision and control with unparalleled comfort. It is manufactured with high-performance materials and components. Its innovative, ergonomic design minimizes the stress on hands and wrists and "kickback" that occur with traditional tools, reducing the risk of repetitive-motion injuries.

The EVO9 application tool family includes versions for two different hand spans (80 mm and 90 mm) plus a version for applications requiring higher bundling tensions.
The cable tie tensioning tool that combines durability, comfort and precision
Durability: The EVO9 cable tie tensioning tool is manufactured from the highest quality materials and components, including impact-resistant housings and stainless steel cutting blades and mechanisms.
Comfort: The EVO9 cable tie tensioning tool significantly reduces the "kickback" that occurs with other manual cable tie guns and minimizes repetitive strain on the operator because the handle is designed to keep the wrist in a neutral position. This makes the EVO9 a safer cable tie tensioning tool in industrial environments.

Precision: The EVO9 offers 33 different tension settings for manual calibration to the user's specification. The EVO9 also offers a quick adjustment feature that allows the user to easily select higher or lower tension ranges. Adjusting tension settings is particularly useful on jobs that require both standard and heavy-duty, wide strap cable ties.
Using the EVO9 cable tie tensioning tool brings a host of advantages compared with traditional manual cable tie guns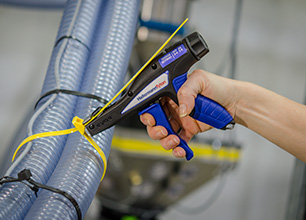 High volume cable tie application without operator strain thanks to patent-pending Tension/Lock/Cut (TLC) technology
Minimal "kickback" and significantly reduced risk of repetitive-motion injuries
Ergonomic, slip-proof handle for a comfortable and secure grip for regular (90 mm) and smaller hand spans (80 mm)
Flush cut cable ties
33 precise tension settings for accurate, repeatable application
Quick-adjustment feature of the cable tie tensioning tool allowing easy jumps of three whole stops between higher and lower tension ranges
Impact-resistant, lightweight glass fibre-reinforced polyester housing and durable components for extended service life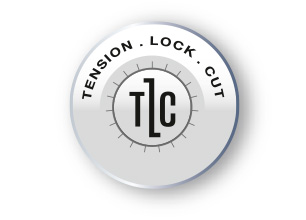 Like the HellermannTyton EVO7, the EVO9 family of cable tie tensioning tools includes our patent-pending Tension/Lock/Cut (TLC) technology, which is unique in the market. TLC revolutionizes the application of cable ties by reducing the manual effort required to tension and cut the band cleanly. Less recoil shock means significantly reduced repetitive strain on the operator's hand and wrist. The technological innovation also guarantees precise cutting of the cable tie flush to the head.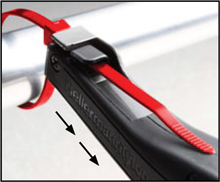 1. Tension
The cable tie is tensioned to the desired setting which is selected using the adjustment knob.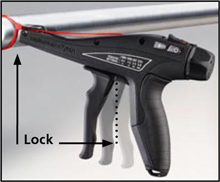 2. Lock
When the tension setting is reached, the locking mechanism of the cable tie tensioning tool holds the tie firmly in place. No further manual pressure is necessary.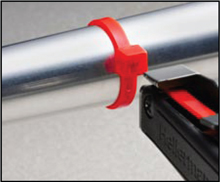 3. Cut
A further light pull of the trigger delivers a precise cut that can be achieved time and again without excessive strain on the user or the blade.
Typically HellermannTyton: Excellent performance and perfect service
The EVO9 cable tie tensioning tool is ideally suited to industrial environments because it is resistant to the effects of impacts and chemicals and delivers top performance. In combination with our market-leading cable ties, you can be confident that each tie will be perfectly tensioned and cut. EVO technology sets new standards for safe and efficient high volume cable tie application. Moreover, each EVO cable tie tensioning tool is individually calibrated at our factory, ensuring consistently accurate performance from each and every tool.
The EVO9 cable tie tensioning tool is the tool of choice in the following application areas
Cable and wire harness assembly
Electrical installation
Building installation
Mechanical engineering
Plant engineering